Remember that incredible Mezze Board I made a few weeks back after my trip to Northern California with California Walnuts? Well, my walnut consumption has been kicked into high gear ever since, and now that it's December, it's time to go all out. All out in the form of Walnut Sticky Buns!!
These are everything. Here's the deal…
Thomas' mom makes these once a year on Christmas morning and the whole house smells amazing. Waking up to the smell of Walnut Sticky Buns… I mean, what could be better than that?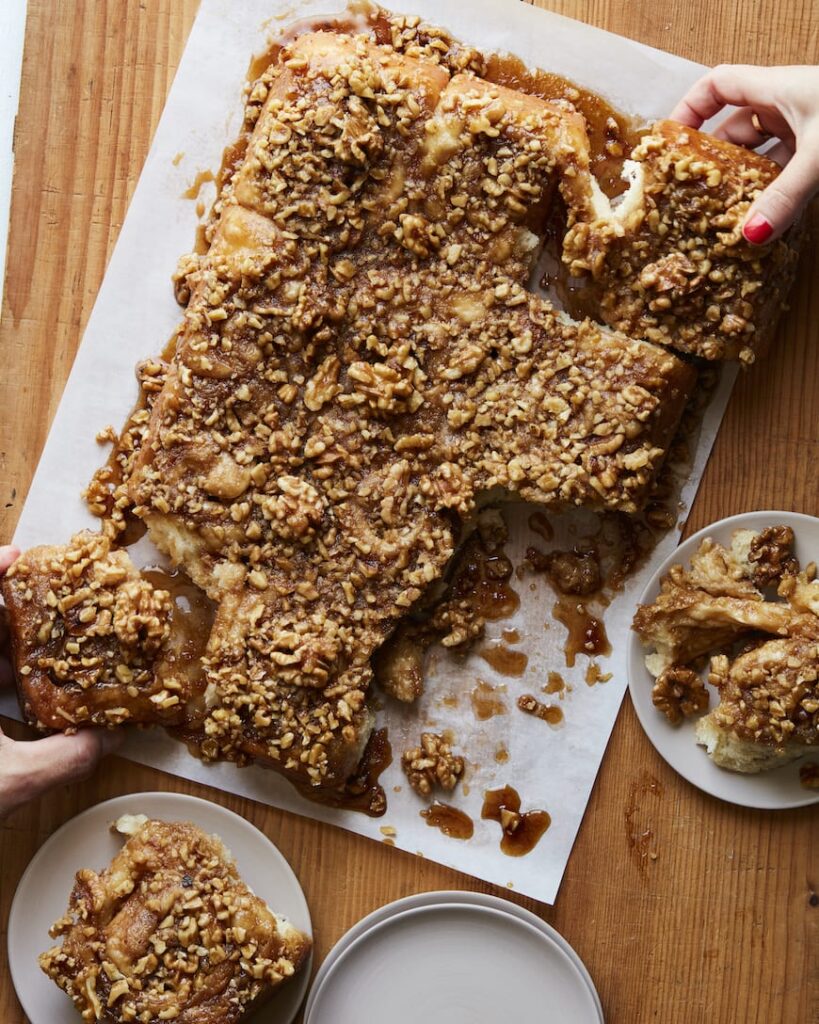 We usually trade off holidays with our families and this year we're actually traveling so we'll be rolling solo… but I promised Thomas I'd make these Walnut Sticky Buns once before we leave so he can get his fill. I mean…. WIFE OF THE YEAR. In reality, these are super easy to make so it's no sweat off my back! Let's break it down!
First – we've got to talk about the dough. Yes, these are made with a yeasted dough – but they surprisingly don't take that long to proof! You're welcome. They only need 1 hour of resting before you can roll the dough out and fill it with the walnut mixture.
Second – the recipe written below needs no special equipment. If you choose to make this in a stand mixer, no problem!! You won't get the same arm workout but use the dough hook and you'll be good to go.
Third – let's talk walnuts!! Obviously, they are my go to for sticky buns. Their flavor lends itself perfectly to the brown sugar and the vanilla. You can buy halves or pieces – or a mixture of both! If you use halves, you'll need to give them a rough chop before using!! And pro tip: if you've got some walnuts on hand right now and they are sitting in your pantry…. Go put them in an airtight container and store them in the fridge! It'll extend their life and keep them fresher longer! I even started to keep mine in the freezer for maximum life span!
A few questions you might be wondering:
What exactly is a Sticky Bun? Sticky buns are a type of breakfast or dessert if you ask me!! It's a sweet roll that has brown sugar, butter and nuts! They are rolled into a baking pan and baked to perfection and then flipped over before serving to get that caramelized nutty topping.
What's the different between a cinnamon roll and a sticky bun? While both are delicious – cinnamon rolls requires a double rise to make them softer and fluffier with a more buttery flavor. A sticky bun is less doughy, heavier in brown sugar, and heartier, thanks to the infusion of walnuts!!
How do you store sticky buns? If you cover these with plastic wrap, they'll keep at room temperature for about 2 days. If you need them for longer, wrap them in plastic wrap and store in the fridge for up to 1 week.
Walnut Sticky Buns
These Walnut Sticky Buns are the perfect decadent breakfast for the holiday season!
Ingredients
1

recipe

Basic Sweet Dough (recipe below)

1

cup

unsalted butter, melted

1

teaspoon

vanilla extract

2 1/2

cups

brown sugar

1 1/2

cups

California walnut pieces
Basic Sweet Dough
1/2

cup

milk

1/2

cup

white sugar

1 1/2

teaspoon

kosher salt

1/4

cup

unsalted butter

1/2

cup

warm water

2

packages

active dry yeast

2

eggs, beaten

4 1/2

cups

all purpose flour
Instructions
For the Basic Sweet Dough
Warm milk over medium high heat. Once warm, add sugar, salt and butter and stir to dissolve the sugar. Set aside to cool until lukewarm.

In another bowl, combine the warm water and yeast and stir to combine until dissolved. Once the yeast has dissolved, add the milk mixture, eggs and ½ of the flour. Mix until smooth. Add the remaining flour and knead until smooth and elastic, about 8-10 minutes. Place the dough in a greased bowl and let rise in a warm place for 1 hour. Once the dough has risen, punch the dough down and use as instructed below. 
For the Sticky Buns
Combine the melted butter with 1 ½ cups brown sugar, vanilla extract, 1 cup walnut pieces. Pour into a greased 9×13 baking pan. 

Combine the remaining brown sugar and remaining walnut pieces and set aside.

Divide the dough in half and roll out each half to a 12-inch square. Sprinkle each half with equal amounts of brown sugar walnut mixture. Roll up lengthwise and cut into 1 inch slice and place, side by side, in the prepared baking dish. Cover and let rise in a warm place until doubled in size, about 1 hour.  

Once the dough has doubled in size, transfer to a 350-degree oven and bake for 25-30 minutes until golden brown and bubbly. Flip the sticky buns out of the baking dish, upside down and serve.
Photo by Matt Armendariz / Food Styling by Adam Pearson / Recipe from What's Gaby Cooking
** This post is brought to you by CA Walnuts. All content, ideas, and words are my own. Thanks for supporting the sponsors that allow me to create new and special content like this for What's Gaby Cooking**