Who doesn't love a slow roasted / fall of the bone / caramelized pork butt?? What's not to love! If you've never heard of Bo Ssam… well I'm about to change your life. For real. No joking here.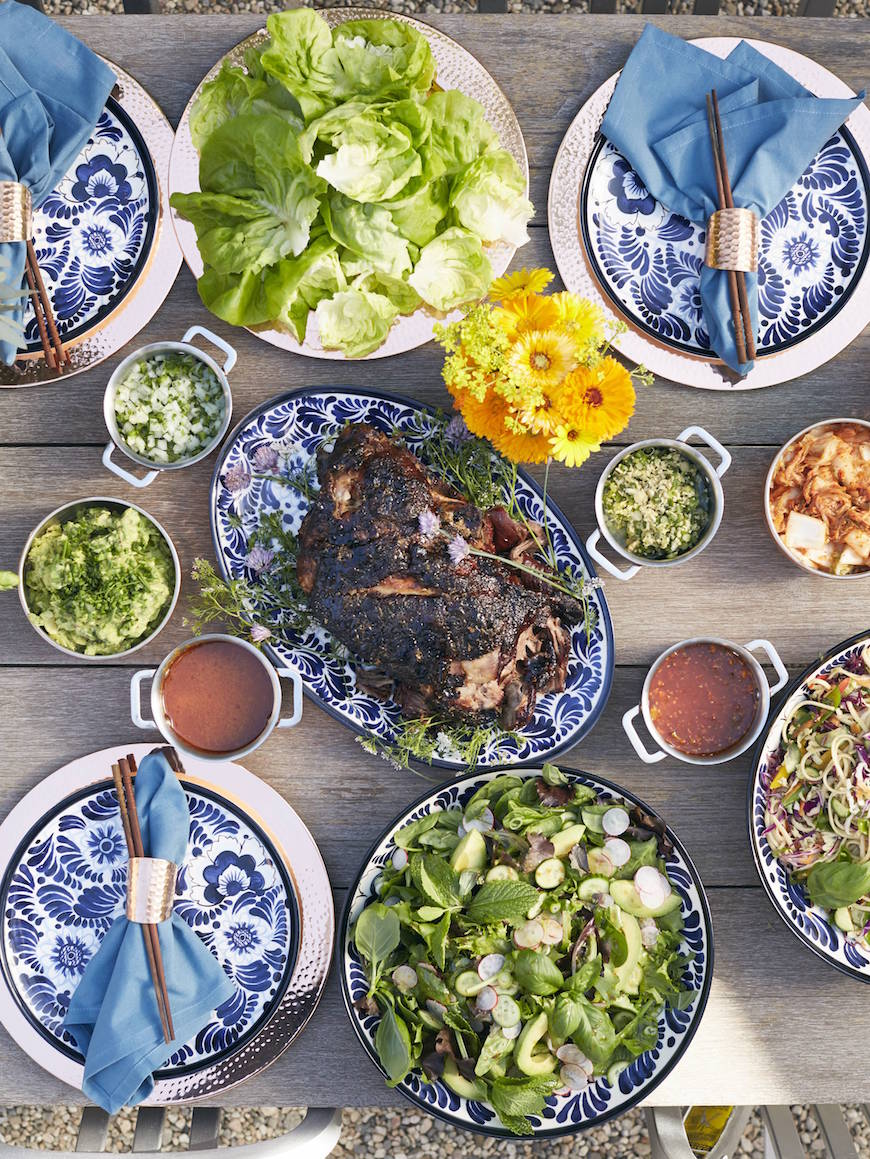 It's the star of the show. The main event. The Bo Ssam is what makes the Bo Ssam party special – it's a David Chang masterpiece and one that I will forever be grateful for Matt and Adam introducing me to. It's a giant piece of pork that's roasted for hours and hours and then you can rip it apart and assemble anything you want. This time around I served it up with a variety of sauces and some guacamole because it makes sense. It gets some white rice, some kimchi, and then you can mix and match until your hearts content. I really wish I could eat like this on a daily basis – and I would if it didn't take so long to make slow roasted pork – but whatever. Special occasions will have to do!
And by special occasions I mean every weekend for the foreseeable future! It's a dinner that will impress any guests and I think you should make it all IMMEDIATELY! And check out the whole collab with Williams-Sonoma here!
Bo Ssam
Ingredients
For the Pork
1

whole bone-in pork butt

8 to 10 pounds

1

cup

white sugar

1

cup

plus 1 tablespoon kosher salt

7

tablespoons

brown sugar
For the Ginger Scallion Sauce
2 ½

cups

thinly sliced scallions

both green and white parts

½

cup

peeled

minced fresh ginger

¼

cup

grapeseed oil

1 ½

teaspoons

soy sauce

1

scant teaspoon sherry vinegar

½

teaspoon

kosher salt

or to taste
For the Ssam Sauce
2

tablespoons

fermented bean-and-chili paste

ssamjang, available in many Asian markets, and online

1

tablespoon

chili paste

kochujang, available in many Asian markets, and online

½

cup

sherry vinegar

½

cup

grapeseed oil
For the Korean BBQ Sauce
¼

cup

kochujang

Korean Chile Paste

5

garlic cloves

minced

2

tablespoons

peeled and minced ginger

2

green onions

thinly sliced

2 ½

tablespoons

soy sauce

1

tablespoon

rice wine vinegar

1

tablespoon

light brown sugar

1

tablespoon

honey

2

teaspoons

sesame oil
To Serve
Butter Lettuce Cups

Store bought Kimchi

1

recipe Gaby's Guacamole

1

recipe Gaby's Pico de Gallo

Cooked White Rice
Instructions
For the Pork
Place the pork in a large, shallow bowl. Mix the white sugar and 1 cup of the salt together in another bowl, then rub the mixture all over the meat. Cover it with plastic wrap and place in the refrigerator for at least 6 hours, or overnight.

When you're ready to cook, heat oven to 300 degrees F. Remove pork from refrigerator and discard any juices. Place the pork in a roasting pan and set in the oven and cook for approximately 6 hours, or until it collapses, yielding easily to the tines of a fork. (After the first hour, baste hourly with pan juices.) At this point, you may remove the meat from the oven and allow it to rest for up to an hour.

When you are ready to serve the food, turn oven to 500. In a small bowl, stir together the remaining tablespoon of salt with the brown sugar. Rub this mixture all over the cooked pork. Place in oven for approximately 10 to 15 minutes, or until a dark caramel crust has developed on the meat. Serve hot, with the sauces and dips and guacamole. Create lettuce wraps with pieces of the pork and whatever desired toppings you want. Serve alongside white rice, kimchi and the duo of salads.
For the Ginger Scallion Sauce
In a large bowl, combine the scallions with the rest of the ingredients. Mix well and taste, adding salt if needed.
For the Ssam Sauce
In a medium bowl, combine the chili pastes with the vinegar and oil, and mix well.
For the Korean BBQ Sauce
Combine all ingredients in a bowl and whisk to combine.
Pork / Ginger Scallion / Ssam Sauce from David Chang via New York Times
Photo by Matt Armendariz / Food Styling by Adam Pearson /