Easter might be over but that doesn't mean brunch is! I'm upping the ante on quiche today with this Broccolini Fontina Quiche. And trust me – your life will never be the same!
Let's talk quiche, shall we? It's really one of the best ways to feed a crowd for breakfast or brunch (or breakfast for dinner if that's your thing!). It can take on any number of flavors depending on what you mix in. It's easily transportable. And you can make it with or without a crust. I'm partial to a semi-crust. It's not as labor intensive as making a pie dough, and it's not quite as basic as no crust… so it's somewhere in between!
All you need for my crust is a good coating of the Land O Lakes® Butter with Olive Oil and Sea Salt and some panko bread crumbs. That will give you a very subtle crunch and act as a semi-crust, and really, that's what the world needs! From there, you can layer in some sautéed onions and broccolini that take on the Land O Lakes® Butter with Olive Oil and Sea Salt flavor! That gets topped with your favorite cheese, fontina in my case, and then topped with a custard mixture that then bakes to perfection. All in all, it's the perfect bite once you slice into it – and I promise you'll never want to make another quiche recipe besides this ever again!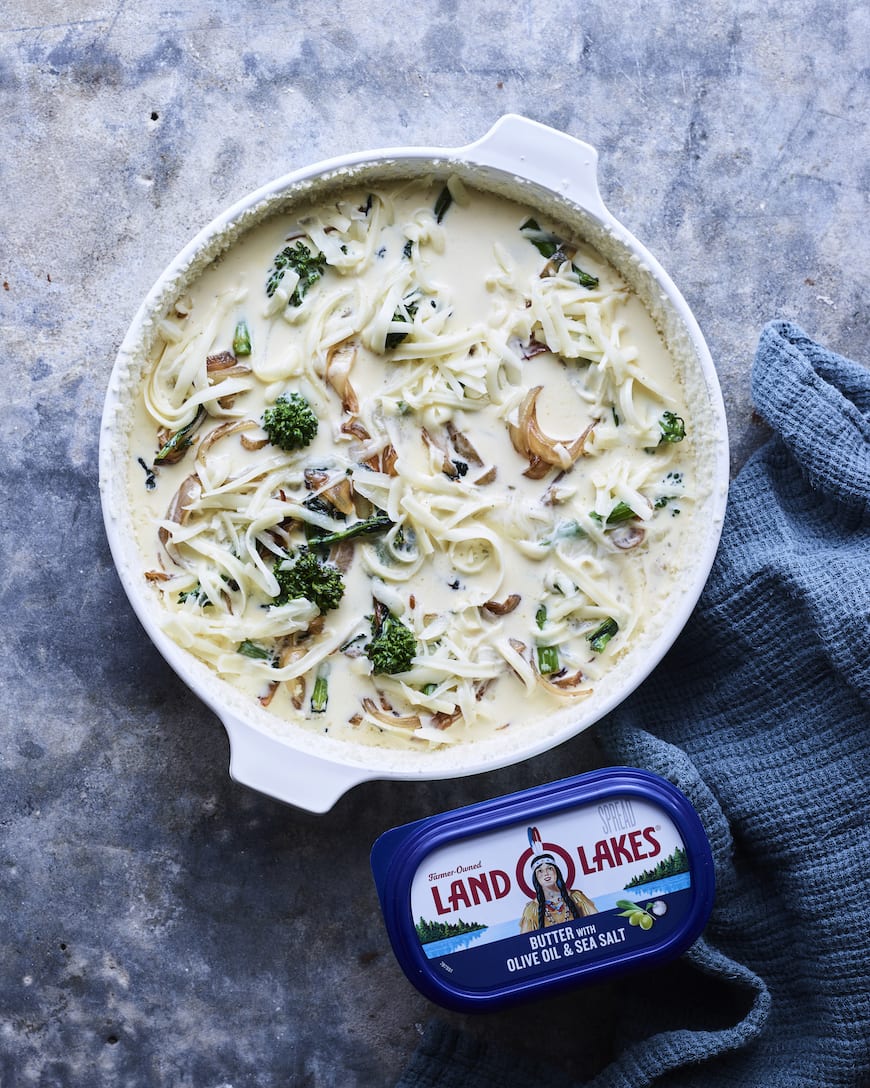 And side note – this will work with any veggies! Just make sure to sauté them in the butter to get an extra depth of flavor! It's almost brown-butter-ish, but not quite. It's the perfect subtle hint of something-something in this quiche!
Broccolini Fontina Quiche
Ingredients
2

tablespoons

Land O Lakes® Butter with Olive Oil and Sea Salt

3

tablespoons

panko bread crumbs

2

yellow onions

thinly sliced

1

bunch broccolini or broccoli rabe

chopped into 2-inch pieces

1

cup

shredded Fontina cheese  

4

large eggs

1

cup

heavy cream

1

cup

whole milk

Kosher salt and freshly cracked black pepper to taste

Market greens

optional for garnish
Instructions
Preheat oven to 425°F.

Grease a quiche pan or skillet (9-inches wide, 2 inches deep) with Land O Lakes® Butter with Olive Oil and Sea Salt, then sprinkle all over with bread crumbs.

Place a large heavy skillet over medium heat, and the Land O Lakes® Butter with Olive Oil and Sea Salt. Add the sliced onion and sauté, stirring occasionally, until soft, about 10 minutes. Add the broccoli rabe and cook 6-8 minutes more until softened. Season with salt and pepper and transfer the vegetable mixture into the quiche dish, then evenly sprinkle cheese on top.

Whisk together the eggs, cream, milk, ½ teaspoon of salt and ¼ teaspoon pepper and pour over cheese.

Bake until the top is golden and custard is set in center, 25 to 30 minutes. Cool slightly before cutting into wedges and serve.

Optional: Serve with market greens tossed with lemon juice and olive oil over the top.
Photo by Matt Armendariz / Food Styling by Adam Pearson / Recipe by What's Gaby Cooking
** This post is brought to you by Land O'Lakes (which is legit the world's best butter and I'm willing to put it to a butter taste test any day of the year!). All content, ideas, and words are my own. Thanks for supporting the sponsors that allow me to create new and special content like this for What's Gaby Cooking**