Life without guacamole just isn't worth living!! Which is why I'm always on the prowl for fun ways to incorporate one of my favorite condiments! And today it's all about these Carnitas Tacos topped with guac!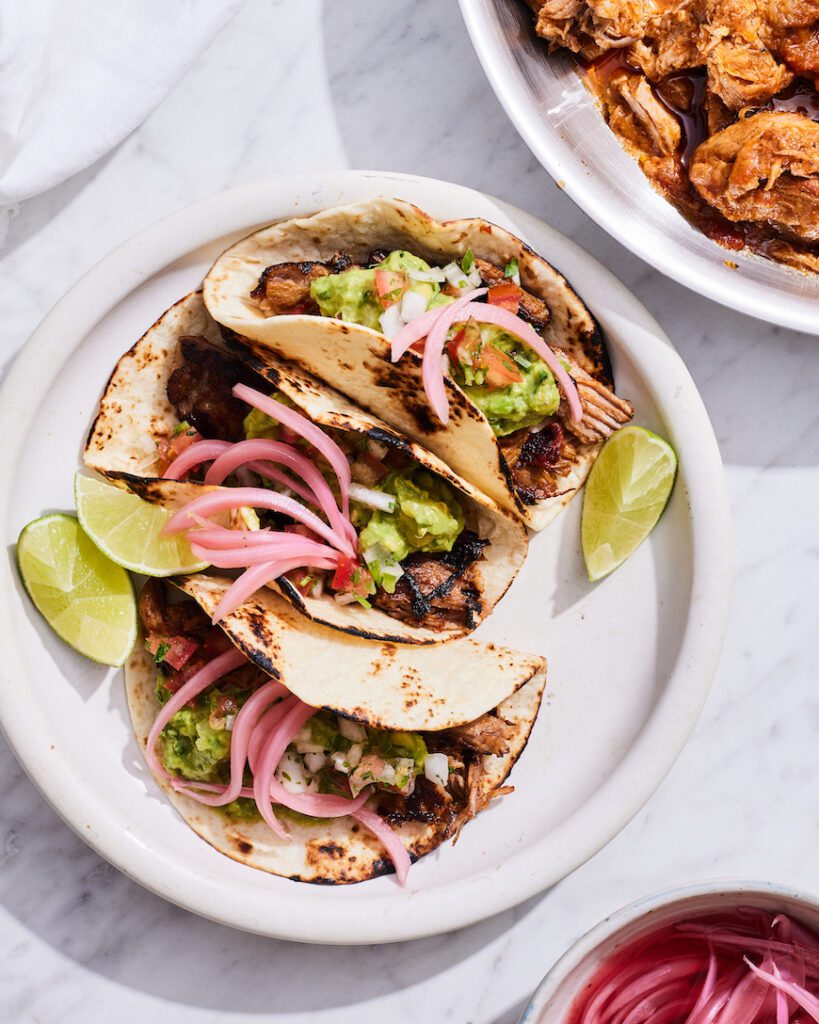 I can't even remember the first time I made carnitas tacos. It had to be years ago when I was in culinary school and just starting to emerge from my picky eater status. (20 some odd years of not really eating fish, meat, mushrooms etc… so if I can get over it, there's hope for everyone else!) Since then, I can't get enough.
These melt in your mouth carnitas are to die for. And when you put them in a warmed flour or corn tortilla and top it off with some guacamole and a sprinkle of pickled onions, well, things look just about perfect!
These carnitas tacos are made on the stovetop. If you're using a slow cooker, cook the pork shoulder on low for 6-8 hours or high for 4-5 hours. It's important to use a meat thermometer to make sure your pork shoulder reaches an internal temperature of 170°F.
And if you're looking for some ideas of what to make with your leftovers, try these carnitas recipes:
Burrito Bowl – My all time fav Carnitas Burrito Bowl! All of the toppings, yummy rice, and the best carnitas!
Skillet Nachos – These mini skillets are composed of layers of homemade tortilla chips, carnitas, some shredded cheese, a bit of queso for good measure, and salsa.
Pizza – This pizza with lots of carnitas, guacamole, and cheese is a game changer.
Carnitas Tacos
These melt in your mouth carnitas are to die for. Put them in a warmed flour or corn tortilla and top it off with some guacamole and a sprinkle of pickled onions, for the perfect dinner.
Ingredients
3

pounds

boneless pork shoulder

cut into 2 inch cubes

1/2

cup

fresh orange juice

1/4

cup

fresh lime juice

10

oz

chipotle salsa

1

tsp

kosher salt

plus more to taste

Small corn and flour tortillas
Toppings
Diced white onions

Lime wedges

Guacamole

Fresh Cilantro

Sliced Jalapenos
For the Pickled Red Onions
1

cup

apple cider vinegar

1

tablespoon

sugar

1 1/2

teaspoons

kosher salt

1

red onion

thinly sliced
Instructions
Make the pickled red onions. Whisk the apple cider vinegar, sugar and salt with 1 cup water in a small bowl until sugar and salt dissolve. Place onion in a jar; pour vinegar mixture over. Let sit at room temperature for 1 hour.

Place the pork in a large dutch oven with the orange juice, lime juice, salsa and salt. Add enough water to barely cover the meat. Bring to a boil. Once boiling, reduce heat to medium low and simmer with the lid on for 2 hours, at which point the pork should be falling apart to the touch.

Turn the heat up to medium high, and continue to cook the pork for 45 minutes, uncovered, stirring every once in a while, until all the liquid has evaporated and the pork fat as been rendered.

Parts of the pork should be caramelized and golden brown. Remove the dutch oven from the stove and season with salt and pepper as needed. Serve as needed or let cool and store in an airtight container for 4 days in the fridge

To assemble the tacos, warm or char a small tortilla and place a few pieces of carnitas on top. Add a dollop of guacamole, a few pickled red onions, chopped onions, jalapenos and a sprinkle of cilantro. Serve immediately.
Photo by Matt Armendariz / Food Styling by Adam Pearson / Recipe by What's Gaby Cooking