It's been a big week guys! My book came out, we're on week 4 of the podcast, giveaways are happening and now I'm about to chow down on this Spring Castelvetrano Greek Pasta Salad!!
If there was one thing I stocked up on BQ (that's before quarantine if you're not familiar) it's castelvetrano olives and pasta. I HAVE AN ADDICTION AND I CANNOT HIDE IT. I have a handful of castelvetrano olives almost every night before dinner and I'm 99% sure that my body is made of 95% carbs at the moment. No shame in my game and I'm here to stay. So naturally I took my 2 favorite things, plus a slew of other things coming in from my CSA box and made them into one giant Greek Pasta Salad that I can keep stocked in my fridge at all times so I have lunch and dinner handled without any real effort!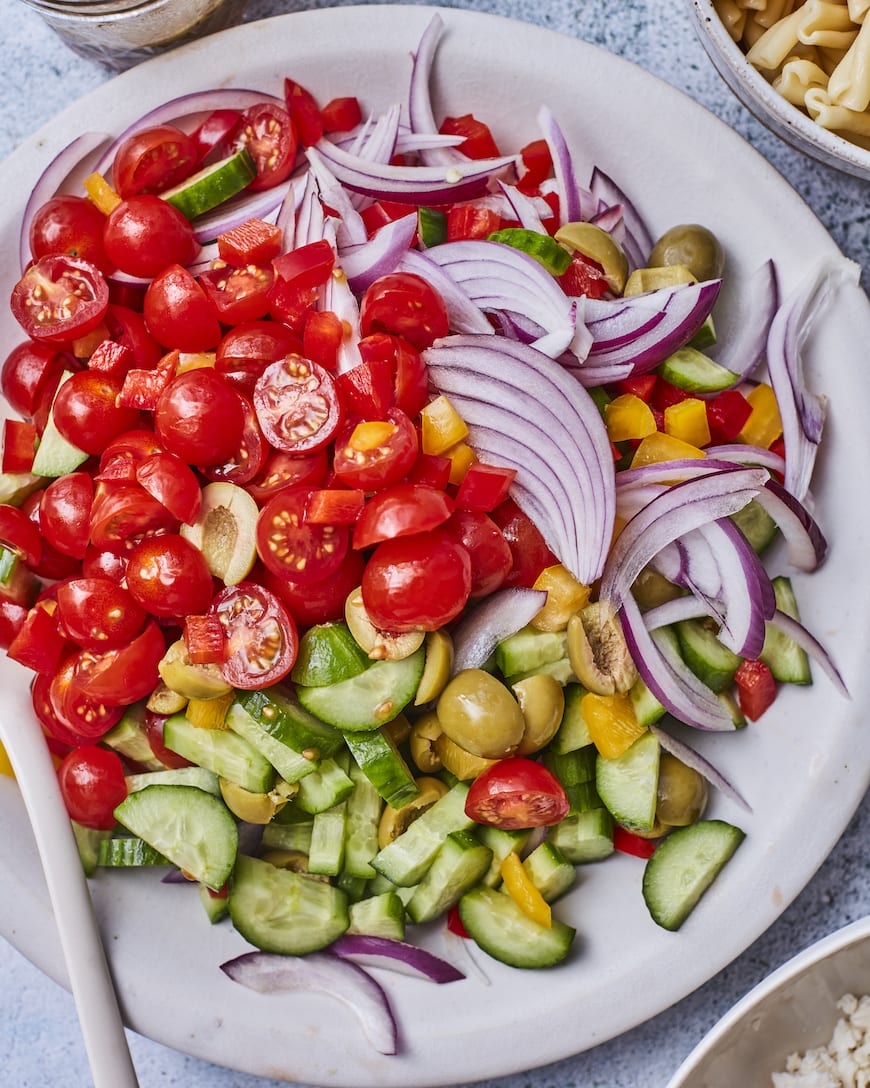 Let's break down the Greek Pasta Salad shall we?
The Greek Vin was inspired by a leftover vinaigrette I made on Greek Easter!! It made the most perfect marinade for chicken but I had about a 1/2 cup leftover that I used on a salad and OMG it was good! The pasta salad components include cherry tomatoes, cucumbers, bell peppers, Delallo Castelvetrano Olives, red onions and really good feta!! Once you mix the veggies, you're just going to need some pasta to add in! I'm 100% hooked on Delallo and their new packaging gives me all the joy because it's so calming and pretty. Weird to say that about a brands packaging but it's true – try to argue otherwise!! Mix it all together and call it a day.
You can eat this at room temp, warm, cold, you name it! It's great as the main course and also wonderful as a side dish! If you want to serve some chicken, steak or fish for the main. You're welcome in advance! Just make it and let's will summer to get here even faster than normal!
Castelvetrano Greek Pasta Salad
This Greek inspired Castelvetrano pasta salad is exactly what we all need as we keep inching our way towards summer
Ingredients
For the Greek Vinaigrette
2

cloves

garlic, chopped

3

tablespoons

olive oil

3

tablespoons

red wine vinegar

1

teaspoon

dried oregano

kosher salt and freshly cracked black pepper to taste
For the Pasta Salad
1

cup

halved cherry tomatoes

1

cup

halved and sliced Persian cucumbers

1

red bell pepper, diced

1

yellow bell pepper, diced

1/2

cup

Delallo Castelvetrano olives, halved

1/2

red onion, thinly sliced

8

ounces

feta, drained and crumbled

Kosher salt and freshly cracked black pepper to taste

10

ounces

Delallo Casarecce Pasta
Instructions
In a small bowl, whisk together all the ingredients for the vinaigrette. Season the vinaigrette with salt and pepper and set it aside

In a large bowl. combine all of the pasta salad ingredients together and gently toss to combine. Pour the Greek vinaigrette over the vegetables, and again, gently toss to coat them. Crumble the feta over the salad and then very gently toss the cheese into the vegetables.

Taste and adjust for more freshly ground black pepper if desired. Serve immediately at room temperature, or chill before serving.
Photo by Matt Armendariz / Food Styling by Adam Pearson / Recipe from What's Gaby Cooking
** This post is brought to you by Delallo. All content, ideas, and words are my own. Thanks for supporting the sponsors that allow me to create new and special content like this for What's Gaby Cooking**