A very wise man (aka my best friend Matt) said that you cannot live your best life without guacamole. And I'm 100% on board with that. But also you really can't live your best life without salsa, cheese and fajitas so in honor of that…. let's make a Chicken Fajita Skillet Quinoa Bake! 
You guys know how much I love eating out of a bowl right? I mean I wrote an entire chapter on bowls in my cookbook for crying out loud! I have similar feelings about cooking everything in a big 'ol skillet and serving it straight outta the pan. It makes things easy and that's exactly what this Chicken Fajita Skillet Quinoa Bake is!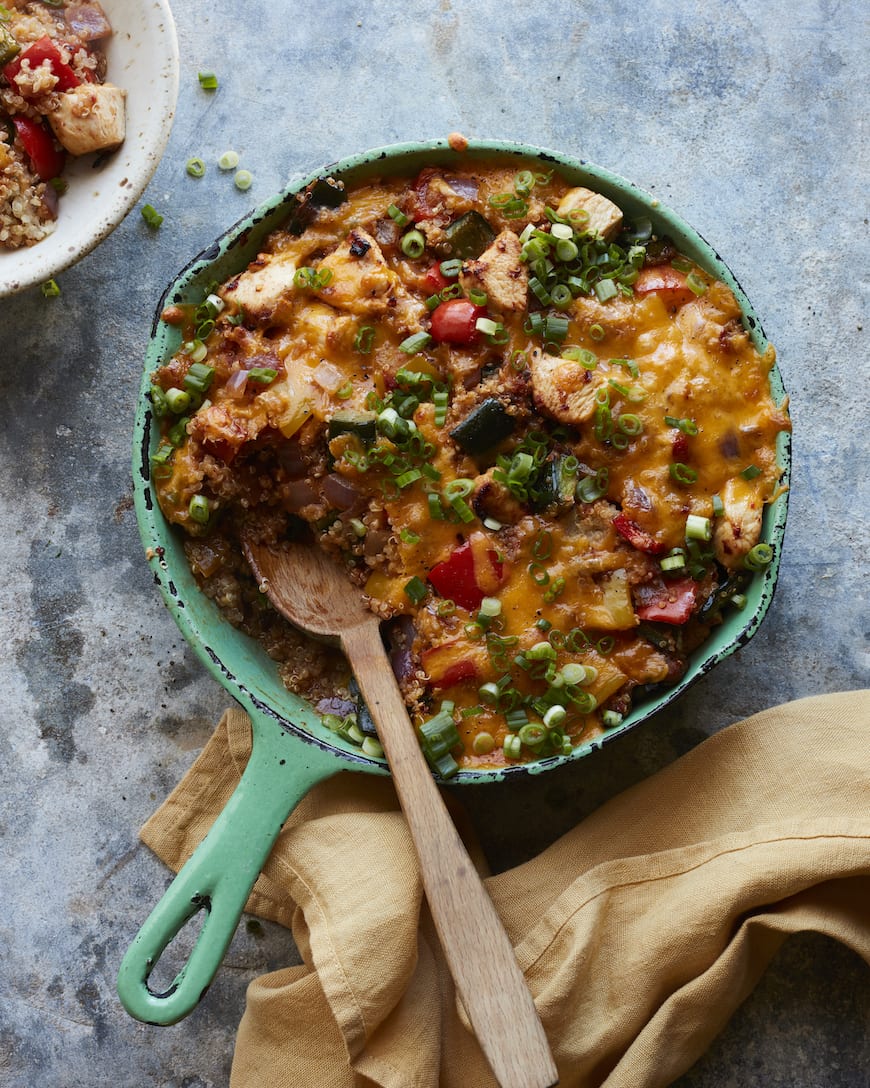 It's everything you love about fajitas, mixed with some quinoa (you could also use rice or pasta if that's more your jam), doused with salsa, topped with plenty of cheese and then baked to perfection. It's PERFECT for any weeknight meal and it's incredible as leftovers! Top it with some guacamole and call it a day!
Chicken Fajita Skillet Quinoa Bake
Ingredients
For the Fajita Mixture
1

lb

boneless skinless chicken breasts

2

tablespoons

lime juice

3

tablespoons

olive oil

1

garlic clove

minced

½

teaspoon

salt

½

teaspoon

ground cumin

½

teaspoon

chili powder

½

teaspoon

red pepper flakes

1

poblano pepper

medium dice

1

red bell pepper

medium dice

1

yellow pepper

medium dice

1

red onion

medium dice
For the rest of it...
1

cup

quinoa

2

cups

shredded cheese

divided

1 ½

cups

chipotle salsa

Kosher salt and pepper to taste

Finely chopped scallions as needed
Instructions
Slice the chicken breasts into cubes, about 1 inch. Combine the lime juice, olive oil, garlic, salt, cumin, chili powder and red pepper flakes in a bowl and whisk to combine. Add the chicken and marinate for 1 hour.

Heat a large cast iron skillet over high heat. Add a tablespoon of olive oil. Add the chicken mixture, marinade included, and sauté until fully cooked. Using a pair of tongs, remove the chicken from the skillet and add the vegetables. Sauté until tender and charred. Add the chicken back into the cast iron skillet and toss to combine. Remove from heat and set aside.

Meanwhile, preheat the oven to 375 degrees F. Cook the quinoa according to the package directions. Once cooked, remove from heat and transfer the cooked quinoa into a large bowl. Fold in the chicken fajita mixture, 1 ½ cups of the shredded cheese, and salsa. Season the entire mixture with salt and pepper and stir to combine.

Lightly spray a large skillet with non-stick spray, and transfer the mixture into the baking dish. Top with the remaining shredded cheese and bake for about 20 minutes until the top layer of cheese is bubbly and melted. Remove the baking dish from the oven and garnish with green onions and serve.