**This post is brought to you by Chex Cereal. All content, ideas, and words are my own. Thanks for supporting the sponsors that allow me to create new and special content like this for What's Gaby Cooking**
I'm about to tell you a very true and very sad story. It has to do with these Double Dark Chocolate Muddy Buddies and it's REAL 🙂 
Okay so if you REALLY pay attention around here, you know that I don't like peanut butter. It's just not my jam in sweet recipes. I'll take it in a peanut noodle sauce, or a dipping sauce, but if you put it into my cookies or brownies or anything along those lines, I'm out.
That said, growing up for tennis carpool, whoever was driving the crew of us to tennis would also be responsible for snacks. There was one mom who put peanut butter in her treats every week. And most often those treats were Muddy Buddies. You know, the crazy delicious snack made with Chex cereals that everyone loves….
Well, I never had any. I think maybe I had one small little piece and was like, hard pass. Too much peanut butter. Clearly I really missed out in my younger years. WELL – times have changed people. Different nut butters exist and Chex has Chocolate Chex which is legit my favorite thing on earth. Combine the Chocolate Chex with almond butter, dark chocolate and a few other key ingredients and it's LIFE ALTERING. Double Dark Chocolate Muddy Buddies are finally in my life after all these years and I couldn't be more excited.
These Double Dark Chocolate Muddy Buddies are going on rotation this holiday season along with my Christmas crack and everyone is getting it as a little homemade gift. No one gets left behind!! Morale of the story here – never give up people!! We made Muddy Buddies work for this anti-sweet peanut butter girl so IF THERE'S A WILL, THERE'S A WAY! And to answer your questions in advance, yes you can use any variety of Chex cereal your heart desires – but if you haven't tried the chocolate yet – promise me you will. It's everything.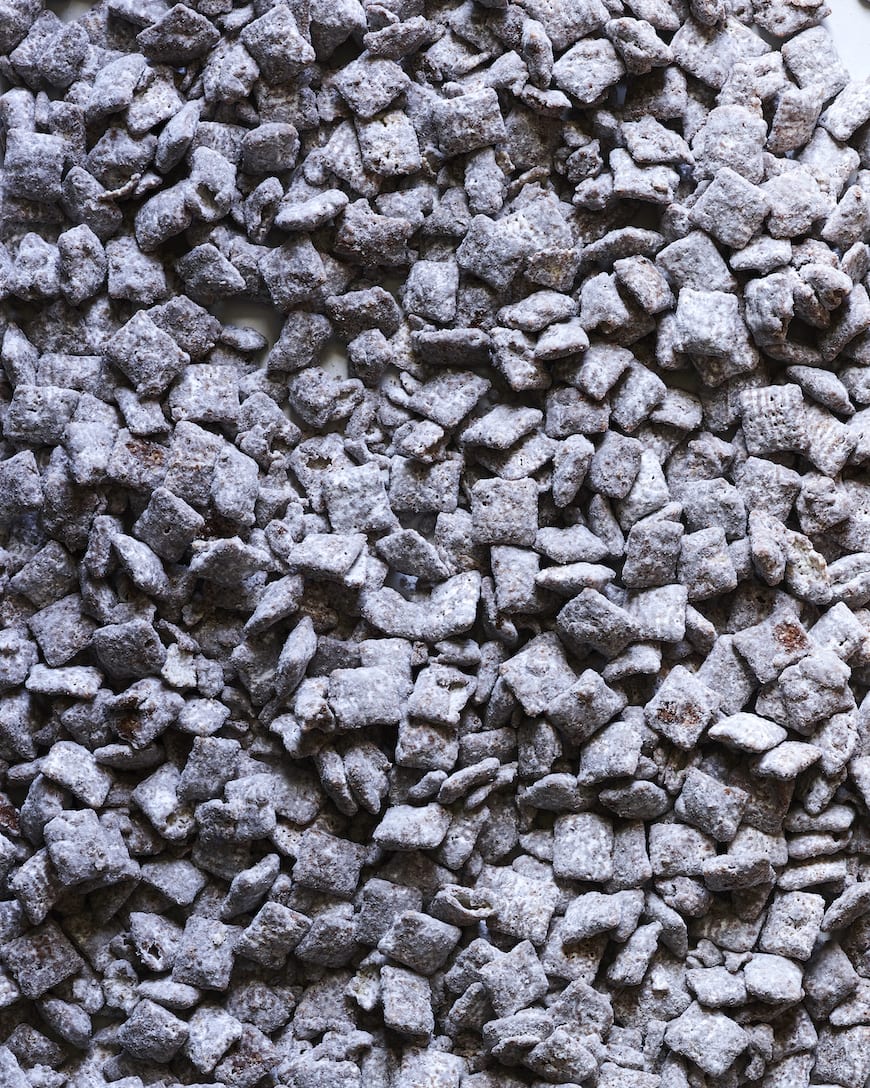 Double Dark Chocolate Muddy Buddies
Ingredients
9

cups

Chocolate Chex

1

cup

dark chocolate chips

1/2

cup

creamy almond butter

1/4

cup

unsalted butter

1

teaspoon

vanilla extract

1/2

teaspoon

chocolate extract

3/4

teaspoon

kosher salt

1 1/2

cups

powdered sugar
Instructions
Line a baking sheet with parchment. Place the Chocolate Chex in a large bowl and set aside.

Place the dark chocolate chips, almond butter, and butter is a microwavable-safe bowl and microwave in 30-second increments, stirring in between each increment, until you can stir the mixture to a smooth consistency. Then add the vanilla and chocolate extract and salt.

Pour the chocolate almond butter mixture over the cereal, stirring until everything is evenly coated.

Pour into a super large, resealable plastic bag and add half of the powdered sugar. Shake until well coated. Add the remaining powdered sugar and shake again. Spread onto the lined baking sheet and allow to cool entirely. Store in an airtight container in the refrigerator or freezer. I prefer the freezer so it last forever and ever and I can eat it whenever the mood strikes.
Photo by Matt Armendariz / Food Styling by Adam Pearson / Recipe by What's Gaby Cooking