If you asked me to describe my perfect girls getaway it would probably consist of the following…. close friends, a healthy amount of Mai Tai's, plenty of glowy beach time, a daily dose of poke (marinated ahi tuna) and not a care in the world!! Sounds pretty incredible right? That's exactly what's in store for this edition of Gaby's Guide to Honolulu!
A few weeks ago I packed my bags headed to O'ahu for a long weekend of relaxation and ALL THE FOOD.
Before we get into my favorite parts of the trip you should probably understand one thing. I was all about balance when it came to this vacay. I'm not one to shy away from anything… so if there's a giant meal in my future, I'll be sure to get a hike or swim in beforehand. If there's a boozy brunch in the AM, you can bet there will be some sightseeing or something active after recovering from food comas. It's really all about working off your meals and making sure you can still show up to the beach and feel great in your swim suit. That said… whether you're girls tripping it, having a romantic weekend with your SO or heading out on family vacation…here's my guide to Oahu, Honolulu and a few key places you've got to hit in the surrounding area!
Where to Eat:
The Pig and the Lady – Here's the deal, China Town in Honolulu is a must. There are a few gems that you can't miss and this is one of them. With an eclectic Vietnamese menu you really can't go wrong any way you turn. But if it we're up to me… I'd opt for the weekly Bahn Mi special. YES!!
The Manifest – While we didn't get to spend a ton of time in China Town, we did hit up The Manifest for a few cocktails. It's a fun little bar with plenty of locals and great people watching if that's your thing!!
Lappert's – I mean, have you known me to ever pass up an opportunity to eat ice cream? I think not. Lappert's is famous on the island and it lives up to its reputation 100%. Trust me when I tell you… Coconut Pineapple ice cream. Done and done.
Lunch Box Kitchen – while we didn't make it to the brick and mortar location, we did sample plenty of eats at the Hawaii Food and Wine festival from Lunch Box Kitchen and here's the deal… it was the best bite of the entire event. A trip to the actual restaurant is a must.
Liliha Bakery – I mean, what's a food focused girls trip without the occasional indulgence right? Liliha Bakery, home to the best cocoa puffs on the island was basically a one-stop shop of the most epic sugar fix. Their cocoa puffs are chocolate-filled puffed pastries that seriously rival anything I made in pastry school.
Leonard's Bakery – while we're on the topic of sweets, we've got to talk about malasadas. Malasadas are a Portuguese doughnut without a hole and they are majorly famous from Leonard's Bakery kitchen. Basically fried dough dusted with sugar. I mean, what more can I say. It's basically what dreams are made of.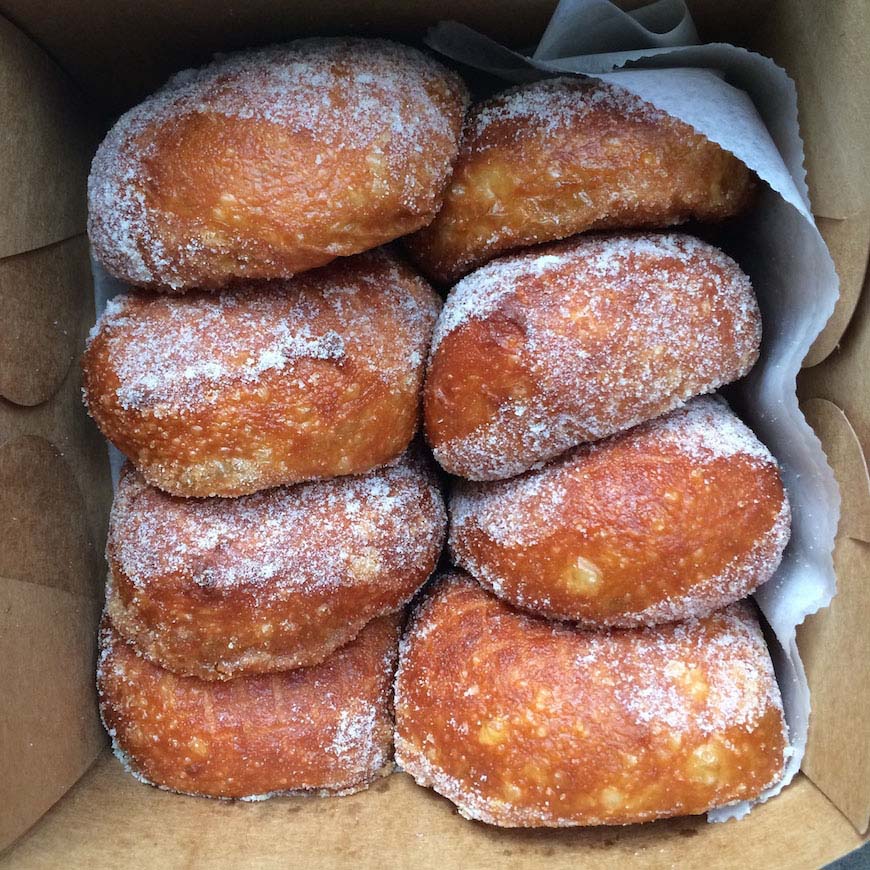 Fresh Catch – okay at first glance you might be all like, whaaaaat? Why is Gaby sending us to what looks like a Taco Bell-ish restaurant. Well, let me tell you. Looks can be deceiving!! It's the most epic "fast food" joint on the island and it's made up of all sorts of Poke Bowls. What? Incredible. Various marinated ahi tuna with different spices, dressings etc, and then piled high on top of a mound of rice. You could have left me here for hours and I would have been content.
Town Restaurant + Superette – another perk to traveling with Aida, especially to O'ahu, is that she knows a ton of locals… and what's even better than locals…. locals who are incredible chefs. Boom. Done. We hit up Town Restaurant + Superette, located just across the street from one another for 2 insanely delicious meals. Town has an Italian flair to it and Superette is a very vegetable focused lunch stop that is so instagram worthy I can't even handle it!! Go to both. Trust me.
Duke's Restaurant and Barefoot Bar – I mean, it's the home of the Mai Tai!! And it's 100% mandatory for a cocktail sometime during your trip!
Sweet Home Waimanalo – perhaps my favorite meal of the entire trip! Just a hop skip and a jump from Waimanalo Beach is this little gem. Between the ahi tacos, hibiscus iced tea and the salmon burger, it was like a little slice of What's Gaby Cooking heaven!
Also! A few places of note that I didn't make it to but had killer reviews from all the locals… Koko Head Café // Diamond Head Market + Grill
What to Do:
Wild Side Specialty Tours – it's a must. I finally conquered my fear of the open ocean and hopped in for a swim with dolphins and sea turtles. Our caption for the day was epic and we frolicked with dolphins for a solid 90 minutes before moving on to dive with sea turtles. For someone who is convinced they are going to encounter a great white shark upon entering the ocean, I certainly was over that by the end of the day!
Outrigger Canoe – Faith Surf School has hands down one of the best teams on the island that's going to rock your world when it comes time to learn how to man an Outrigger Canoe! It's kinda mind boggling to think that people used to travel from island to island on these things – it's some serious hard work!! But it's all worth it when you catch a wave and ride into shore looking like a pro!
KCC Farmers Market – okay here's the deal. It's the most famous farmers market on the island and it's an absolute must visit, but be warned… it's a mob scene. Go early to try and avoid the crowds and be sure to sample plenty of local flavors!! There are a ton of stalls from local restaurants serving a sample of their menu and having a Bahn Mi sandwich at 8:45 in the morning seems like a perfectly reasonable thing to do!
Makapu'u Lighthouse Hike – one of the most gorgeous vistas that I got to experience on this trip was at the top of the Makapu'u hike. It's not crazy hard by any means so it's 100% family friendly!
Kualoa Tours – I mean, who wouldn't want to cruise around Kualoa Ranch and pretend they are in Jurassic Park or Lost. It's one of the most gorgeous parks on the island and you can opt for a horseback ride tour or an ATV expedition. I vote horseback riding because then you feel like you could legit be in a movie ☺
Waimanalo Beach – Some of the beaches on O'ahu are packed… but not Waimanalo Beach! It's pretty much the most perfect beach with white sand, aqua water and enough space to set up shop for the day under some palm trees and relax with friends.
Where to Stay:
The Modern – you know me, I'm all about a fun swanky hotel and The Modern Honolulu is just that. Located just a bit off the main drag, it's a super chic hotel with an epic pool that looks out over the harbor. It was also home to the Food and Wine Festival which as you guys know, is one of my favorite excuses to eat mini bites from 20 restaurants in one evening 🙂
Royal Hawaiian Hotel – if you're feeling extra fancy, I'd probably suggest The Royal Hawaiian. It's got that old school Hawaiian glamour with all the modern luxuries you'd want! It's pretty much a pink palace right on the island and you'll never want to leave!
This trip we didn't make it over to the North Shore… but you can bet I'll be back for another girls adventure!
A major Aloha to O'ahu Visitors Bureau for making this such an incredible experience!! Thank you to Hawaiian Airlines for such lovely flights and to The Outrigger for putting us up. I can't wait to return someday soon!