If you even knew how much time I've spent in line waiting for my fav acai bowl, you'd laugh! So rather than spend $10 every time the craving strikes, here is my own Acai Bowl Recipe you can make (in mere minutes) at home!
Here is my favorite Acai Bowl Recipe which hs been on my mind for years – ever since I spent a few weeks in Brazil and ate them on the daily! Let's break it down shall we…
What is Acai?
Acai is a HUGE staple in South and Central America! It grows on acai palm trees native to the Amazon (fun fact, I once climbed an Acai tree in hopes of getting high enough to get the fruit and that was a big fat no!) The actual berry has a short shelf life so you won't find fresh acai in the states. Instead you can find frozen acai packed in the freezer section that will do the trick! I like the Sambazon variety – and it comes sweetened or unsweetened!
What does acai taste like?
It tastes like magic! It's sweet and tropical and a little reminiscent of a blackberry + pomegranate combo!
Are Acai Bowls healthy?
When it comes to Acai bowls you have to remember that not all are the same and created with health in mind. Acai at its core is a super food and really good for you, the look like grapes and for the most part have very little sugar. With that being said, you want to look at the ingredients that go into an acai bowl. Many times acai bowls will look healthy but can be loaded with sugary toppings, so this is something to keep in mind. If your bowl, like the one I have created here, sticks to natural ingredients and limited toppings you should be safe. Its an excellent way to get your fruit, antioxidants and super foods in for a post workout or occasional mid day snack.
How to make an Acai Bowl at home?
The good news is that Acai Bowls are super easy to make at home. First, you will want to buy some frozen Acai from the grocery store. Most stores now carry this is the frozen section. Next you are going to take a banana and some coconut water and blend all three together. This forms the base of the bowl. From here you can have fun with toppings. I like to go with some homemade granola for a sweet crunch, some fresh strawberries, and some shredded coconut to top it off. Really any fresh fruit, granola, nut butters, honey drizzles, shredded coconut, cacao nibs, chia seeds or hemp hearts is great for toppings… the list goes on. It's basically a smoothie bowl with toppings and I am here for it! For the all details and measurements see the full recipe and instructions below.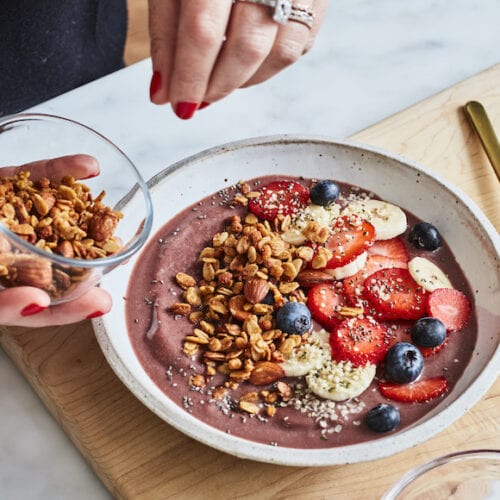 Coconut Acai Bowl Recipe
Make your own Coconut Acai Bowl at home in 5 minutes flat! It's the best way to start the day with tons of antioxidants and fresh fruits!
Ingredients
For the Acai Puree
2

acai Superfruit Packs (I use the Sambazon packs found at Whole Foods)

1

large banana

1/2

cup

coconut water or unsweetened vanilla almond milk
For the toppings:
Sliced Strawberries

Sliced Bananas

Shredded Coconut

Crumbled Granola
Instructions
Blend the 2 frozen acai packs in a blender with the banana and coconut water or almond milk until it's thick and smooth like a smoothie.

Top with sliced strawberries, sliced bananas, toasted coconut and crumbled granola. Enjoy immediately.
Photo by Matt Armendariz / Food Styling by Adam Pearson / Recipe by What's Gaby Cooking