You guys know how I feel about condiments. I NEED ALL OF THEM. Salsa. Sauces. Guacamole. The works! And today this homemade chipotle salsa is what we all need!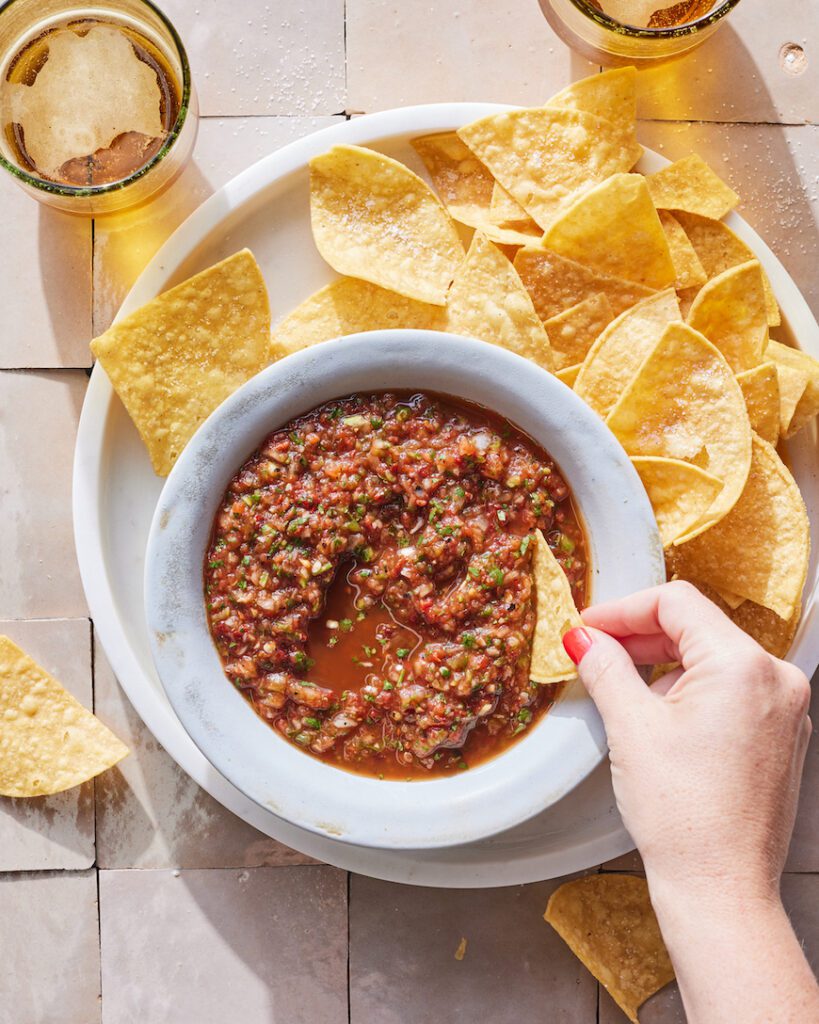 This is a safe place right? Somewhere where I can admit that I'm a total salsa freak? I really can't be blamed for this though. Growing up in Tucson basically made me this way. Salsa was everywhere and I sampled just about everything Arizona had to offer. I've kept my salsa eating habits since living in California. And I don't intend to give it up anytime soon. Which is why you all need this Homemade Chipotle Salsa recipe in your life immediately.
I want salsa that packs some serious flavor. Nothing too mellow. A little spice. Plenty of depth of flavor. Also, fire roasted tomatoes… yes! That really cranks it up a few notches. Cilantro is a must. Garlic and onions, obviously. And chipotle peppers in adobo sauce. It's the icing on the cake.
This Homemade Chipotle Salsa goes on just about everything I made. From grilled fish, chicken, steaks, breakfast burritos and of course nachos!! This recipe makes me particularly happy for many reasons, but one giant one being there's really no knife work involved. No chopping up tomatoes perfectly… none of that here. Instead it all goes into a blender and then you're ready to eat! And obsessed. And cry because it's the best salsa you'll ever have in your entire life! Watch just how easy it is to make this Homemade Chipotle Salsa here.
What you'll need:
Homemade Salsa
This Homemade Chipotle Salsa packs a punch. It comes together in a blender in less than 5 minutes and goes on just about everything, grilled fish, chicken, steak, breakfast burritos, and of course nachos!
Ingredients
1

can

14 oz Fire Roasted Tomatoes

1/2

cup

yellow onion

chopped

2

cloves

garlic

chopped

1/2

jalapeño

chopped

2

chipotle peppers in adobo

plus 1 teaspoon of the adobo sauce

1

teaspoon

kosher salt

1/2

teaspoon

freshly cracked black pepper

1/2

cup

cilantro

1

lime

juiced
Instructions
Combine all ingredients in the food processor or high powered blender and pulse until everything is evenly blended.

Taste and adjust salt and pepper as needed. Add more chipotle peppers if you like it extra spice.

Remove from food processor or blender and refrigerate.