If you've never had a Traditional Arbol Chile Salsa before, prepare yourselves. You might never make any other way, ever again!
First things first – you're going to need some Dried Arbol Chiles for this recipe. I buy them in bulk on Amazon and keep them on hand to make this salsa whenever the mood strikes! The Chile de Arbol is a pepper native of Mexico and part of Central America. It's a tad bit spicy and incredibly delicious. It's one of the most used dried peppers in Mexican cooking, principally in salsas and we ate it every single day when we were visiting Mexico City!
When it comes to cooking, you can grind it down and use it as a powder, but I tend to reconstitute it in some kind of liquid and then use it in a salsa. Below the peppers are brought to a boil with some water and then added to the rest of the salsa mixture before pureeing into a smooth consistency! Couldn't be easier!
And if you're making this – you might as well make my whole Mexico City inspired happy hour menu! Recipes are all linked above + below!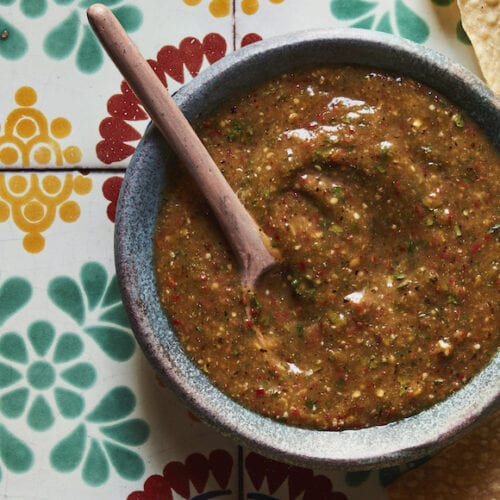 Traditional Arbol Chile Salsa
This Traditional Arbol Chile Salsa is truly incredible. You'll want to make a triple batch and freeze some because it's some of the best homemade salsa you'll ever have!
Ingredients
6-10

dry arbol chiles, cleaned with a damp cloth

2

roma tomatoes

4

small tomatillos, husks removed and cleaned

2

cloves

garlic

1/2

cup

yellow onion, chopped

1/2

bunch

cilantro

1

lime, juiced

Kosher salt
Instructions
Fill a medium pot with 6 cups cold water and add the dry chilies, bring to a boil over medium high heat. Once boiling add in the tomatoes, garlic and tomatillos.  Cook 10 min. Remove from heat, strain and discard the water, place everything into a blender and pulse the blender to chop everything up, smooth but chunky.

Add the onions and cilantro to the blender and pulse a few more times, or until you have the consistency you like. Remove to a bowl and stir in salt and lime juice. Let cool to room temp and refrigerate 3-5 days