These Spiced Chicken Kebabs served with a sumac and herb spiked salad and a creamy yogurt sauce are legit perfection!
Fair warning: grilling season isn't even remotely over for me as we're losing the kitchen portion of the house in a few weeks – but if you're planning on packing up the grill anytime soon… YOU MUST MAKE THESE BEFORE!! These Spiced Chicken Kebabs are truly perfect. It is one of the only things I remember eating in Turkey back when I was a kid and the flavors have stuck with me ever since.
The flavors and spices in this come from all different parts of the world. We've got something that is reminiscent to a Fattoush Salad, a cumin spiced Tzatziki and these chicken kebabs. Mixing all the flavors, spices, herbs, etc together are literally perfection and you won't be disappointed. In fact, you might even feel like you've been transported on vacation for a quick hot second!!
What can you marinate chicken kebabs in?
My preference is to actually work the seasoning into the mixture rather than marinate. Adding all the spices infuses the meat so that every single bite is LOADED with flavor.
How long do you cook chicken kebabs on the BBQ / grill?
If you're using ground meat as the recipe suggests, you'll cook for about 4-5 minutes per side!! Quick!
Can you cook chicken kebabs in the oven?
Yes, you sure can. Just make sure the skewers are properly soaked so they stay moist. And the bake until an internal thermometer registers the chicken as fully cooked.
Here are some of my other favorite Kebab recipes: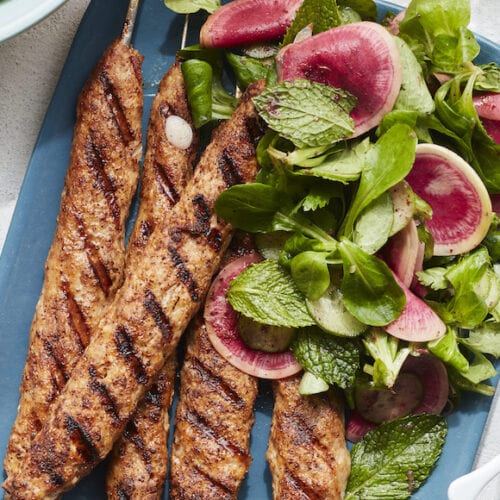 Spiced Chicken Kebabs
These Spiced Chicken Kebabs are the PERFECT way to get some last minute summer grilling inspo on your plate! Paired with a light salad and a yogurt dipping sauce, they are delish!
Ingredients
For the Kebabs
2

teaspoons

sumac

2

teaspoons

ground cumin

2

teaspoons

coriander

1

teaspoon

paprika

1

pound

ground chicken (light or dark meat)

1/2

yellow onion, super finely diced

4

cloves

garlic, finely chopped

2

teaspoons

kosher salt

1

teaspoon

freshly cracked black pepper
For the Yogurt Sauce
For the Salad
1

lemon, zested and juiced

1

tablespoon

sumac

1/4

cup

olive oil

Kosher salt and freshly cracked black pepper to taste

4

handfuls

farmers market lettuce

1

cup

fresh mint leaves, stems removed

1

cup

cilantro leaves, stems removed

1/2

cup

thinly sliced radishes

1/2

cup

thinly sliced Persian cucumbers

1/2

cup

thinly sliced green onions
Instructions
For the meat: Combine the sumac, cumin, coriander and paprika in a small bowl. In a larger bowl. combine  ¾ of the spice mixture, the onion, garlic, salt and chicken and use your hands to thoroughly incorporate. Refrigerate the chicken mixture for 2 hours and up to 4.  If using wooden skewers, soak them in water for an hour before cooking

While the meat is marinating, make the tzatziki and stir in the ground cumin.

Shape each kabob onto two skewers (you should get five or six kabobs from 1 pound of chicken) and place on a plate or pan coated with olive oil; turn the kabobs to coat both sides with a light layer of oil. Before grilling, sprinkle both sides with the remaining ¼ portion of the spice mixture. Grill over a medium flame for roughly 4 minutes per side (depending on the thickness of the kabob and the heat of the fire) until cooked through

Stir together the lemon juice and zest, sumac, olive oil, salt and pepper and toss with the greens, mint leaves, cilantro leaves, radish, cucumber and scallions and pile on next to the kabobs. Serve with the yogurt sauce on the side.