Hello! I'm Thomas. For those of you who do not know me, I am a professional Instagram husband.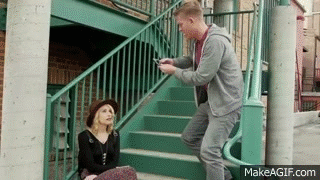 I am also the personality behind the world famous Instagram account @whatsthomaseating and husband to Gaby and father to Poppy and our cat Stella.
Anyhow, Whats Gaby Cooking as most of you know is a place for tons of awesome recipes, epic travel adventures, and countless lists of things Gaby is totes obsessed with.
You know the stuff that is "literally EVERYTHING!!!"....
Makeup, yoga pants, kitchen items, pilates classes, tie dye sweatshirts...you get the gist
This stuff is all great but I have one major question:
Where is the guy content?
Many of Gaby's readers have husbands, sons, or boyfriends and there are lots of men out there who cook WGC recipes.
What I am getting at is that the recipes work for everyone but the supplementary content is sparse for my dudes.
As great as the Lululemon align leggings are (feel free to click this affiliate link and snag a pair of Gabys favorite leggings) 😉 the majority of guys are not rocking a Crop 23" align in Willow Green. INSTEAD we are rocking the Lululemon 22" Surge Tight Nulux in black. No joke the best tights I have tried, and I have tried them all. (Feel free to click this affiliate link and snag a pair of Thomas' favorite tights here). Also why are they called leggings for women and tights for men?
You see where I am going with this. Maybe this is just me feeling outnumbered with the arrival of Poppy, and the ratio of women to men in our house jumping 2:1 but I feel that whatsgabycooking.com could use a little more balance. Think of it as the occasional piece for the modern male.
None of that toxic masculinity BS. Instead it will be a a place for content coming from a dad and husband who thinks he still has a little cool left in him. A place to discuss single malts, grilling techniques, cocktails, joggers, technology, electronics, kicks, workouts, with the occasional anecdote of life in a house full of women, hell we will even cover my favorite shower gel (Jack Black reserve, no joke this stuff is next level and worth the price tag). To round everything out we might even get a little deep and discuss the dad POV during pregnancy and miscarriages, not being the breadwinner, and any other stuff that is not been traditionally discussed or viewed as "manly". Most importantly it will be content where we don't take ourselves too seriously and discuss cool shit.
On that note, it's great to meet you. If this sounds remotely interesting to you please feel free to share moving forward. Anything you want me to hit on or possible cover feel free to leave a comment below or send me a DM @whatsthomaseating.
Cheers!