You guys asked for it - lets talk about our home gym. For as long as I can remember I have been a gym rat.
Monday - Friday 6am, no excuses. This was me time, my sacred space where I could unplug and get lost in pushing my limits. See weight, lift weight, goal accomplished, release endorphins, crush the day.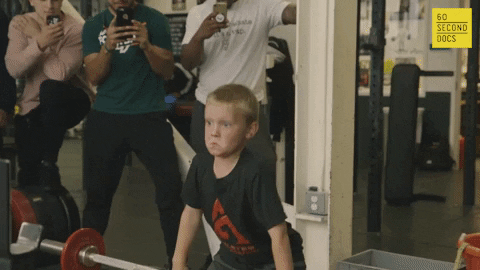 When covid swept across the planet, and the world shut down, I was left high and dry to figure out how I was going to stay in shape and get that 60 min of painful bliss in each day. It was at this point in time, I started really considering what it would take to build out a home gym that did not break the bank.
My best advice is to start small and see if a home gym is a good match for you. Far too many times people go out and buy expensive workout equipment, use if for a month and then let it collect dust. Do your research and really plan for equipment you know you will use. Also remember that there is nothing wrong building it in phases, this is what we did.
OK, so where do we begin?
Think about the types of movements, lifts, and workouts you want to do at home? I personally love to follow a structured program that tells me what to do. This takes the thinking out of what to do when you are working out. It also gives me a specific starting point and end point to my workout. The program will also dictate the equipment needed to complete the workout.
The Starter Kit:
Resistance Bands
These 4 bands got me through 12 months of workouts. You can do almost any movement with these bands and they travel really well.
Resistance Tubes with handles
The tubes are great for curls, tricep extensions etc but not as versatile as the bands in my opinion.
Sandbag Kettlebells
These are good in a bind. At the beginning of covid it was impossible to find a kettlebell or dumbbell so I made do with these. Note: you have to buy sand to fill them up.
Sonos Move
Because music always makes workout out better.
Lets Pump Some Iron:

Traditional Dumbells take up a ton of space. These do not. The power blocks are adjustable from 5-50 pounds. You can buy 2 expansion kits if you need to go up to 90 pounds.
Powerblock Stand (pictured above):
The stand is a really nice to have if you get the Powerblocks, not necessary but does make it easier to store and adjust the weight.
Kettlebells:

I got 6 different kettlebells and use all of them for various exercises. I chose these because they have a flat bottom, were not painted, had a good non slip grip, and they do not chip.
18 pound kettlebell
26 pound kettlebell
35 pound kettlebell
44 pound kettlebell
53 pound kettlebell
71 pound kettlebell
Lets get Dynamic:
Medicine Balls

I went with 3 different sizes to begin with. I was looking for something that was soft to use against a wall, the floor, or with a partner. The balisitic option I found had a better grip and seems to be more durable.
12 pound wall ball
16 pound wall ball
20 pound wall ball

I opted for a soft plyo box vs a traditional wooden or steel box. I like the soft landing when doing box jumps. I also find that when doing weighted step ups on it, you really work ankle stability as well as your legs because there is a little give to it.
TRX:
TRX is a must have for any home gym. The amount of different exercise you can do with this piece of equipment is endless. It is also super travel friendly.

This is a love hate relationship for me. Love because it kicks my ass, hate because it kicks my ass. If you are looking for a killer way to finish a work out jump on the battle rope and do some slams 30 seconds on 30 seconds off for 10 min.
Core Sliders:
One of the most basic things you can buy, but sooooo good for your abs.
Airex Fitline Fitness Mat 180:
I have gone through a million yoga mats. Anytime I workout on one I tear it or it starts to breakdown. I have been working out on this mat for 2 months now and it looks brand new. I love this thing!
Storage:
The big challenge when it came to our home gym was storage. We do not have a garage and outdoor space is limited. I had to get creative with my storage solution.
I opted to go with the Suncast 5'x3' horizontal shed as my main storage unit. It has a reinforced floor that can handle the large amount of weight from the dumbbells and kettlebells as long as its on a flat surface. It is 5' in height which means it hides nicely behind our fence. The interior is actually pretty spacious and holds all of our equipment with room to spare. I have added peg boards to the interior that I found on amazon to organize our jump ropes and bands. This shed also does an amazing job of keeping water out during the rainy season. The big key is to make sure its level when you set it up.
Whats Next?
The one thing I miss the most from going to the gym is being under the bar. So the next items on my home gym list are a squat rack, bumper plates, barbell, hex bar, and adjustable bench. I am currently deciding between Rogue, Sorinex, and Eleiko. Once we figure out who we want to go with I will update this master list and let you know why we chose what we chose.