Any excuse to make a pizza and I'm in, which is why these Tomato Basil Pizza Rolls are happening today!
A few months back one of my favorite people on the planet, Tracy from Shutterbean, made pizza rolls and I just about hopped on the first flight up to the Bay Area and knocked on her door for the leftovers. It was pure genius. Basically a pizza in cinnamon roll form. Tracy – she's a genius. I've been wanting to make them for months now and seeing as how Super Bowl is just a hop, skip and a jump away, I figured today was the day. They're freaking delicious, you can add in any type of pizza toppings – various kinds of cheese, pepperoni, shredded chicken and pineapple, the possibilities are endless! I'm all about a Tomato Basil Pizza Roll because I'm fairly certain 50% of my body is made up of cheese and basil. So, without further ado… meet your new best friend!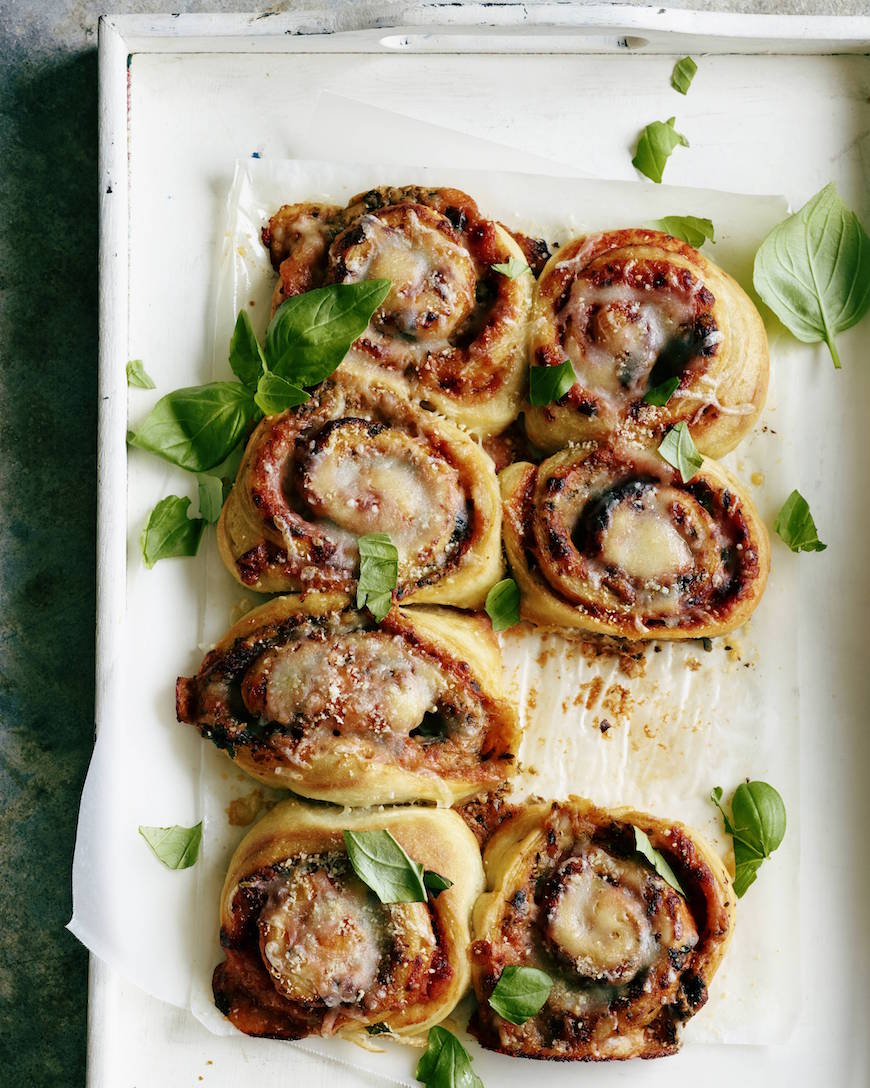 Tomato Basil Pizza Rolls
Ingredients
1

pound

pizza dough

2

tablespoons

olive oil

1

cup

marinara sauce

¼

cup

basil pesto

1 1/4

cup

shredded mozzarella

divided

1/4

cup

shredded fontina cheese cheese

1/4

cup

parmesan cheese

handful of basil leaves

torn, plus more for serving
Instructions
Preheat oven to 450F.

Line a baking sheet with parchment paper and drizzle the surface with 1 tablespoon of olive oil.

On a clean surface, roll out pizza dough into a rectangular shape, roughly 9 x 16 inches. Spread the marinara sauce evenly on the rolled out dough, leaving about a 1" border around the dough followed by dollops of the pesto. Top with 1 cup of shredded mozzarella cheese, all the shredded fontina, a few basil leaves and 1/8 cup Parmesan cheese.

Carefully, lift up the bottom edge of the dough and roll it forward into a tight cylinder. Place dough cylinder, seam side down, on a cutting board and, using a thin, sharp knife, cut cylinder crosswise into 8 equal-size slices. Nestle the slices, cut sides up on a parchment lined baking sheet. Brush 1 tablespoon olive oil onto the edges of the dough and bake until golden brown about 15-20 minutes.

In the last two minutes of baking, pull rolls out of the oven and top with extra shredded mozzarella and a light sprinkle of the remaining Parmesan cheese. Place rolls back into oven and bake until cheese melts. Remove rolls from the oven, let rest for 5 minutes and sprinkle with basil before serving.
Photo by Matt Armendariz / Food Styling by Adam Pearson / Recipe from Shutterbean