Hope you're ready to have your mind blown because these White Chocolate Marshmallow Popcorn Treats are about to do just that!
Have you ever had white chocolate on popcorn with a little bit of salt on top? No?? You haven't lived! I made it a few weeks back for a movie night and I ended up loving the popcorn so much I made it about 234 times since and then turned it into White Chocolate Marshmallow Popcorn Treats because when in doubt… ADD MARSHMALLOWS. It's my new solution to most problems!
The result was incredible and also a major problem. This sweet / salty / chocolaty / rainbow sprinkle situation was straight up dangerous. I could not be controlled… it was square after square of White Chocolate Marshmallow Popcorn goodness going into my mouth and there was no end in sight. Thomas eventually confiscated the pan or I would have easily devoured the entire thing. No shame in my game. It makes for the perfect dessert / movie night snack / sweet treat / breakfast / lunch / dinner. I've clearly lost my mind… but try them and you'll be right there with me!
And because I like to make your life as easy as possible – if you want the grab the same kind of sprinkles – you can order them right here on Amazon!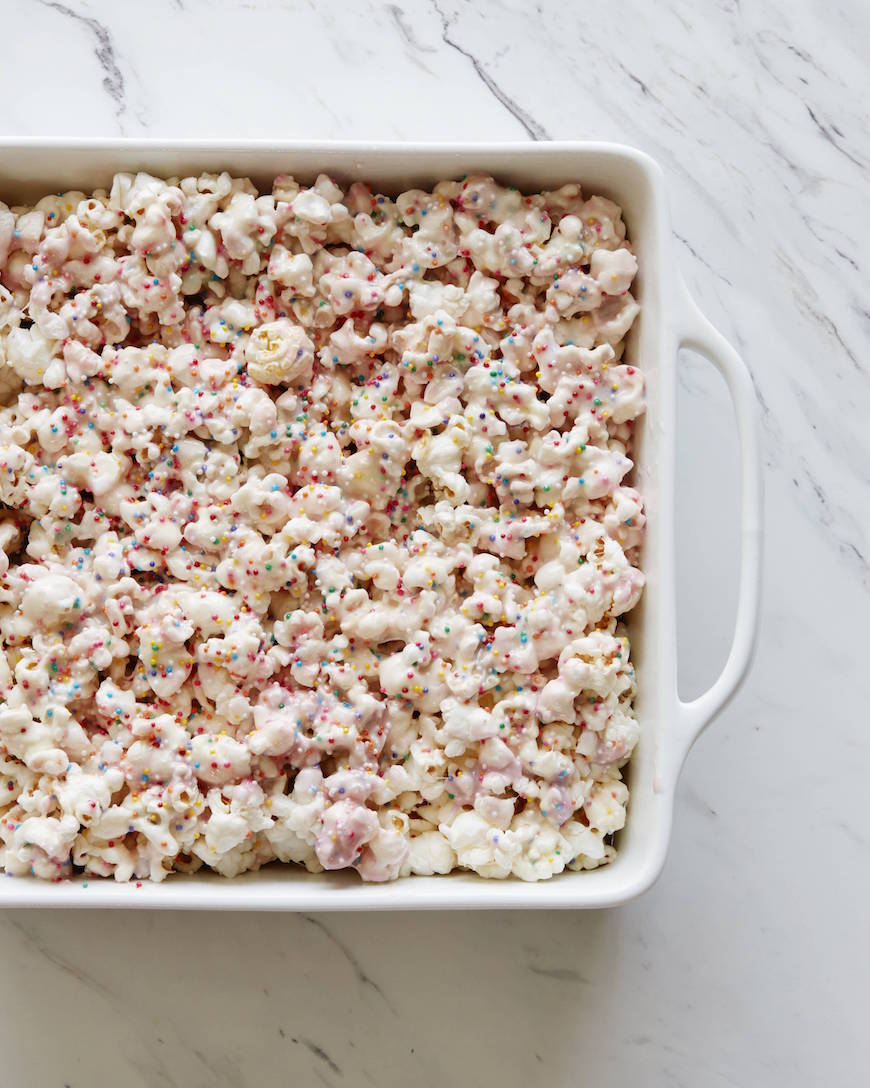 White Chocolate Marshmallow Popcorn Treats
Ingredients
8

ounces

white chocolate

melted

8

cups

popped popcorn

flaky sea salt

1/3

cup

tiny rainbow Nonpareils

2

tablespoons

unsalted butter

16

ounces

mini marshmallows
Instructions
Prepare a 9x9 baking dish with parchment paper and spray with non-stick baking spray.

In a large bowl, gently mix in the melted white chocolate into the popped popcorn. Sprinkle the sprinkles on top and dust with a little salt. Mix everything together until the chocolate and sprinkles are evenly combined.

Melt the butter in a large saucepan over medium high heat. Add the marshmallows and continuously stir to combine until the marshmallows are melted and smooth.

Stir in the popcorn and and mix until the popcorn is well coated. Immediately transfer the mixture into the prepped baking dish pressing it firmly into an even layer. Sprinkle with extra sprinkles on top if desired.

Let it harden for about 20 minutes and then cut and serve. (best when served immediately)