My obsession with Trader Joe's is REAL. I insta-story my way around the store on a fairly frequent basis and and it's high time I spill all my secrets here too. So here we go…31 Trader Joe's Products You Can't Live Without…
(ps – quick side note – I buy very few pieces of produce from TJ's because I find that it goes bad rather quickly! So I get produce from the farmers market and other stores. But TJ's wins hands down for just about everything else…)
ONE MORE SIDE NOTE – if you have favorites that I missed, shout them out in the comments section so I can snag them and try them next time I pop in!
Greek Feta in the Brine. Trust me, this will change your life. You'll be buying feta in the brine forever and ever – it's the best.
Port Salut – it's the best soft and creamy cheese for your cheese boards!
Dark Chocolate Caramel Bars!! Actually, you probably shouldn't get these if you don't want to eat all of them in one sitting. Addictive doesn't even come close to describing them,
Mediterranean Hummus. Easily the best hummus TJ's has to offer. It's creamy, smooth and topped with some pine nuts and herbs! I like to stir in a teaspoon or so of fresh lemon juice to get it some extra pop!
Pizza Dough! Because we can't always be bothered to make it from scratch!
Naturally we need Pizza Sauce for the pizza dough! Duh!
Quinoa! I buy it in bulk because I go through about 1 bag a week! They also have red quinoa and tri-color quinoa… so feel free to go crazy and buy them all.
I know I said I don't buy produce at TJ's but I make an exception for 2 things… one of which is avocados! I buy them when they are rock hard so they can ripen on my counter at home. And if you need to speed up the ripening process, throw them in a brown lunch bag with a banana! The gas from the banana speeds up the avocado ripening process.
Chocolate Chips!! DUH! There are never less than 10 bags at my house at all times. In case we need cookies, or banana bread, or melted chocolate… better to be safe than sorry!
These roasted red peppers are everything! Because you can use a jar and make this red pepper pasta in 10 minutes flat.
Refried Beans. DUH!! Mandatory for nachos!
Some of my favorite crackers ever – perfect for a cheese board!
Easily the best blue corn tortilla chips on the market. The salt ratio is spot on
THIS Dark Chocolate Bar is basically everything you need in life!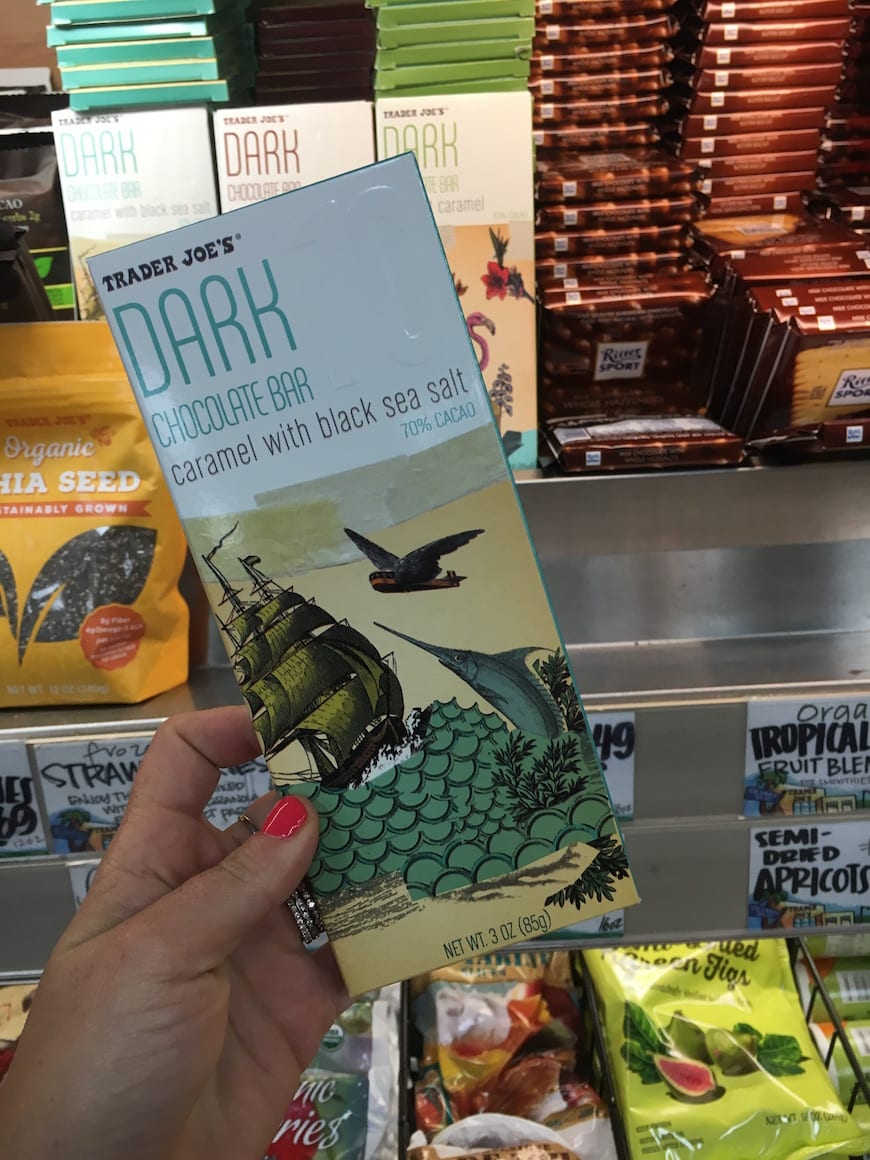 The other produce exception I make at TJ's is their Broccolini! Mostly because I eat about a pound of it daily and I use it up so quickly!
Cauliflower Pizza Crust! It took me a while to get on the cauliflower pizza train but I'm into it!
TJ's has the best nuts at super reasonable prices! Their coconut cashews are my go-to 3pm snack!
Tomato Sauce. For when you just can't bother to make a complicated dinner and whip up a chicken bolognese!
Chocolate Covered Grahams. I mean, enough said!
Balsamic Glaze!! Mandatory for a caprese salad!
Peanut Butter Filled Pretzels. Literally my husbands life line.
Quick cooking farro – because with this dinner can be ready in 10 minutes plus a little prep time.
These savory thin mini crackers are THE BEST for dipping in hummus and my homemade tzatziki!
Coconut Milk!!! Because sometimes you gotta make a coconut curry!
Prosciutto – cause we need this for cheese boards!
Fresh Mozzarella. No explanation needed.
THIS is easily one of my favorite vinegars ever. It makes a killer salad dressing!
Don't tell anyone but sometimes I buy this spinach artichoke dip when I'm too lazy to make it from scratch and claim that it's homemade. IT'S SO GOOD!  
Dark Chocolate Covered Almonds. Go-to car food. Also are you noticing a theme? Anything covered with dark chocolate is fair game.
and lastly…. Roasted Corn!!! Use it in all of your recipes that call for corn. It's loaded with flavor from fire roasting and I want it all day, every day!