Chocolate lovers – this one is for you and it will NOT let you down! Chocolate Brownie Pudding is literally what your dreams are made of!
Chocolate Brownie Pudding is seriously the most decadent and rich dessert I have ever eaten in my entire life! And oh my gosh, is it good. I mean how can you go wrong with butter, sugar and chocolate with ice cream on top?! It's like a giant molten lava cake and it seriously makes enough to feed a small army. I made it just the 2 of us recently and let's be honest, it was an issue. I couldn't be responsible for my actions when left alone with this skillet. Things didn't end well for me or the Chocolate Brownie Pudding. So word to the wise, it's best shared.
There are just a few key tips and tricks that make this Chocolate Brownie Pudding even better…
1. When the recipe says to whip your eggs and sugar together for 10 minutes – DO IT! Don't skimp on the time. It should look nice and fluffy and pale yellow, almost white!
2. You actually have to sift your flour and cocoa powder on this one. I know I tend to skip that step in almost every recipe on this site, but today we are just going for it because we want to make sure there are no clumps or bumps.
And with that said, I leave you with the recipe and I will now go to the gym!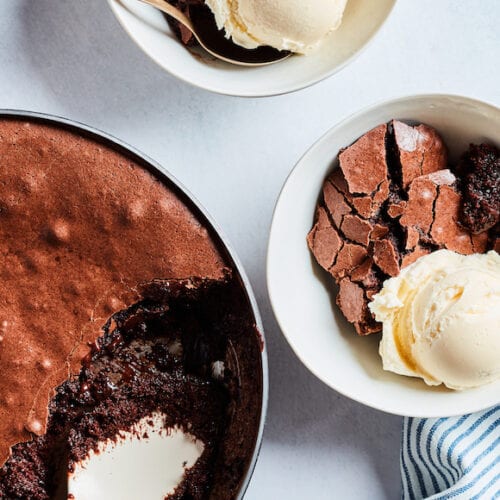 Chocolate Brownie Pudding
The most decadent delicious chocolatey dessert known to man… Chocolate Brownie Pudding! Recipe adapted from the Queen of all things food…. duh… Ina!
Ingredients
1

cup

unsalted butter

4

large eggs

2

cups

white sugar

3/4

cup

dutch cocoa powder

1/2

cup

all purpose flour

3

teaspoon

vanilla extract

2

teaspoons

coffee extract (optional)

Vanilla ice cream

for serving
Instructions
Preheat the oven to 325 degrees F. Lightly butter a 9 inch skillet.

Melt the butter and set aside to cool.

Sift the cocoa powder and flour together and set aside.

In your mixer, beat the eggs and sugar on medium-high speed for 5 to 10 minutes, until very thick and light yellow. After 10 minutes, reduce the speed to low and add the vanilla, coffee extract, and the cocoa powder and flour mixture. Mix very slowly until everything is just combined. Slowly pour in the cooled butter and mix again just until combined.

Pour the mixture into the skillet and place it in a larger baking pan. Add warm water to the pan until it comes halfway up the side of the dish Carefully place it into the oven, making sure not to slosh the water around and bake for 60 minutes.

When it's time to take it out – don't fear – it's absolutely going to look like it's under-baked. (that's normal) Remove the skillet from the water and place in the fridge to cool. Serve in the skillet with ice cream on the side.