Well, it's safe to say we're not going to Italy this summer! But you can bet we're bringing a slice of the Italian life state side! Everyone gets an Aperol Spritz!
If you've never had a Classic Aperol Spritz before, let me be the first to welcome you to what could be your new favorite light summer spritzy drink of choice. I say summer because it really has it's moment when you're walking around pretty much any Italian piazza and all the outdoor patios are bursting with humans, these gorgeous orange hued cocktails and laughter. But if we're being honest, I'll order one any time of the year!
My first Aperol Spritz came about a few years ago when we went to Italy for my birthday. Before then, didn't know what all the fuss was about, but after 1 sip, I was hooked. The recipe varies depending on who's behind the bar, but after countless evenings filled with a spritz or three, this is my spin! It's lighted on the Aperol that you'll find in Italy but just slightly! And if you're wondering what Aperol even is… let's break this down before we get to the recipe.
What is Aperol?
Aperol is a bright orange apéritif. (which just means that it's usually an alcoholic drink taken before a meal to stimulate the appetite but I drink it throughout an entire meal and have never regretted it!) It has a zesty orange flavor with hints of herbs and a touch of vanilla. It's hard to explain but trust me, it's good! Especially in a spritz!
What goes into an Aperol Spritz?
You really only need 3 things. Aperol, Prosecco and a club soda / sparkling water. Prosecco (you'll want to get a dry prosecco) is an inexpensive Italian sparkling wine like Spanish Cava and great for making a spritz. Traditional garnishes are either a slice of orange, lemon, or my personal favorite – a castelvetrano olive or two!!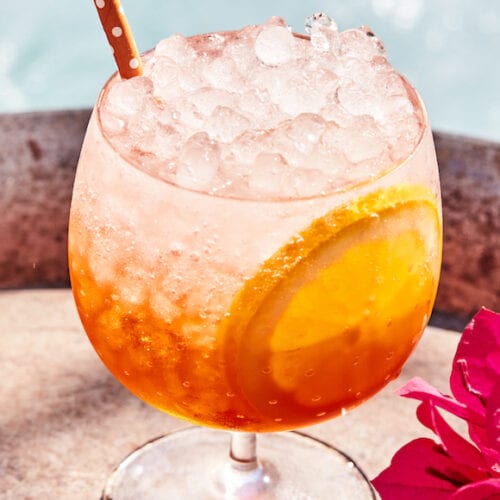 Classic Aperol Spritz
My favorite drink from our time in Italy – right to your kitchen!! Get ready for the Aperol Spritz of your summer!
Ingredients
crushed ice

2

ounces

Aperol

3

ounces

dry Prosecco

2

ounces

sparkling water / soda water

(while not authentic, we really love this with a plain Topo Chico)

Orange for garnish
Instructions
Add ice to a wine glass until it is nearly full. Pour in the Aperol followed by the prosecco and give it a quick stir. Top your drink off with a splash of sparkling water and add a slice of orange.