Have you ever had a creamy Italian Wedding Soup before? It had been a minute since I remember this one and honestly, I'm upset it hasn't been on the blog until today. This meatball loaded soup is light, bright and delicious and perfect for those winter months.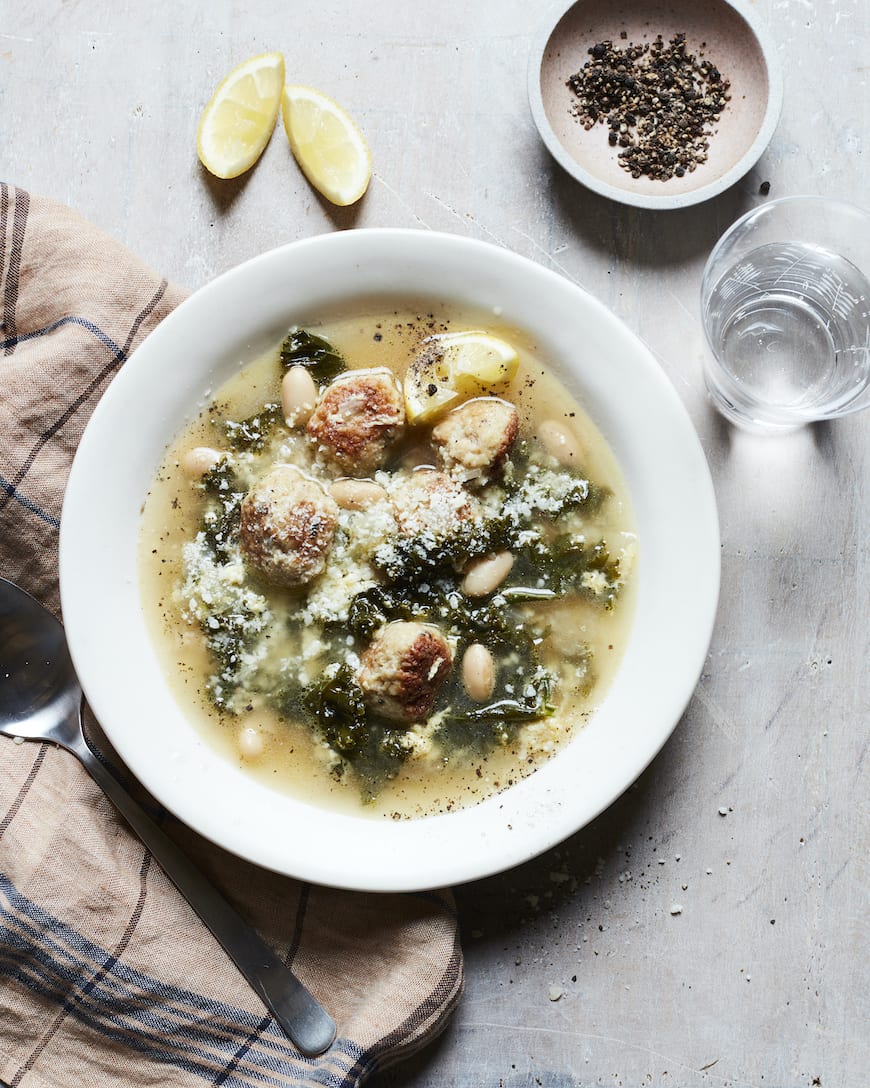 The chicken meatballs are great on their own, but add them to a parmesan broth and it's game over. This soup is going to skyrocket to the top of your fav soups. Serve it alone, serve it with crusty bread, or serve it with garlic bread…. you can't go wrong!
Italian Wedding Soup
File this under my new fav recipe: Italian Wedding Soup with the best chicken meatballs and Parmesan broth! Omg
Ingredients
For the Meatballs
1/2

pound

ground chicken

1/4

cup

grated parmesan

1/4

cup

Italian breadcrumbs

1

egg

1/2

teaspoon

kosher salt

1/2

teaspoon

freshly cracked black pepper

1/4

teaspoon

dried oregano

1/4

teaspoon

dried parsley

1/4

teaspoon

red pepper flakes

2

tablespoons

olive oil
For the Soup
1

tablespoon

olive oil

1

small

onion, finely diced

4

cloves

garlic, finely minced

1/4

teaspoon

red pepper flakes

8

cups

chicken or vegetable stock (low sodium preferred)

1

teaspoon

kosher salt

1/4

teaspoon

freshly cracked black pepper

1/2

bunch

curly kale, stems discarded and greens torn into bite size pieces, about 4 cups

1

egg

2

tablespoons

grated parmesan, plus extra parmesan for serving

1

cup

cannellini beans, drained and rinsed

1

lemon, juiced
Instructions
For the Meatballs
In a large mixing bowl, combine the chicken, parmesan, breadcrumbs, eggs, salt, pepper, oregano, parsley and crushed red pepper. Carefully combine everything with your hands until the ingredients are evenly mixed.

Form the mixture into small meatballs about 1 inch, about 1 1/2 teaspoon. Place on a baking sheet.

Heat the olive oil in a large skillet over medium high heat and  working in batches if needed sear the meatballs on all sides until golden, about 5 min. Remove to a paper towel lined plate to drain.
To Make the Soup
In a 5-6 quart dutch oven or pot heat the olive oil over medium high heat and sauté the onions, garlic and red pepper flakes for 3-5 mins until soft. Add broth, salt and pepper and bring to a simmer. Reduce the heat to medium low, add kale to the pot and cook until the kale is wilted about 3 minutes.

Add the meatballs to the pot along with the beans and simmer 8 mins.

In a small bowl whisk the egg and grated parmesan, slowly pour the egg mixture into the soup while stirring.

Add lemon juice and adjust seasoning with more salt, pepper, or crushed red pepper.

Serve with additional parmesan and a squeeze of lemon juice.
Photo by Matt Armendariz / Food Styling + Recipe by Adam Pearson