Welcome to the unofficial brunch week here on WGC! We're diving head first into all sorts of amazing spring themed brunch recipes and it's kicking off with Sun Dried Tomato and Cheese Homemade Biscuits!
I've been a fan of homemade biscuits for as long as I can humanly remember. Adam made us a version of these homemade biscuits 10 years ago when we were in Palm Springs, and I've been making iterations of them ever since. These are jammed packed with sun dried tomatoes, plenty of cheese, herbs and obviously butter. They're finished with some large flakes of Maldon sea salt and then baked to perfection. You can easily serve these whole with a tub of room temp butter for slathering on top! OR… you can slice them, add some sliced cheese, scrambled eggs, some prosciutto and have an insane breakfast sandwich!
A few notes on making alterations to this recipe:
If you want to sub out the sun dried tomatoes, no problem! Just omit and keep the rest of the recipe the same.
If you'd like to use a different kind of cheese, be my guest. Just use the same amount called for below to keep the ratios working properly!
Need more Spring Brunch inspiration – we made you a complete menu with cocktails and all!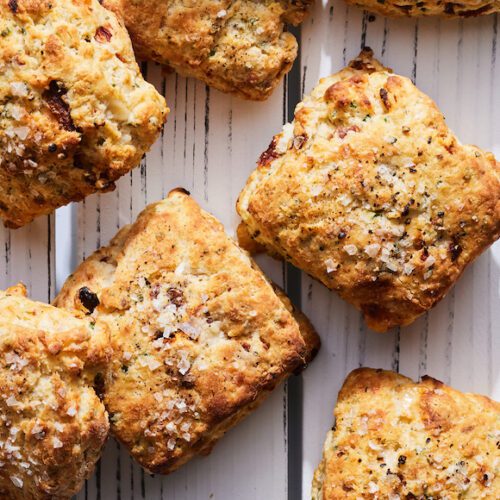 Sun Dried Tomato and Herb Cheesy Biscuits
These cheesy, herby biscuits make the perfect addition to any brunch menu! Serve them warm with room temperature butter, or slice them down the middle and turn them into breakfast sandwiches!
Ingredients
2

cups

all purpose flour

4

teaspoons

baking powder

1/2

teaspoon

kosher salt

1/2

teaspoon

freshly cracked black pepper

1/4

teaspoon

baking soda

1/4

cup

unsalted butter

plus 2 tablespoons

1/2

cup

chopped sun dried tomatoes in oil

oil drained

1/2

cup

large shredded parmesan cheese

1/2

cup

chopped chives

1

cup

cold buttermilk

flaky salt and freshly cracked black pepper to top
To Serve:
prosciutto

softened butter
Instructions
In a large mixing bowl combine the flour, baking powder, baking soda, salt and pepper and whisk to combine. Using a fork or a pastry cutter, cut the cold butter into the flour mixture until crumbly. Make a well in the center, place sun dried tomatoes, cheese, and chives in the well and pour buttermilk over. Carefully and slowly stir until it comes together and makes dough.

Turn the dough out onto lightly floured surface and, with floured hands, give it a quick knead 3-4 times to bring it together.

Pat the dough into a 8×8 square about 1-inch thick, and cut into 9 square biscuits.

Place on a baking sheet lined with parchment or a silpat, brush with melted butter, sprinkle with salt and pepper and place in hot oven till puffed up and golden brown, around 15-18 minutes.

Slice each biscuit in half and serve with softened butter, prosciutto, scrambled eggs or whatever else you want!