Who doesn't like 7 Layer Dip? Layers and layers of delicious things all piled up to make the most glorious snack there ever was!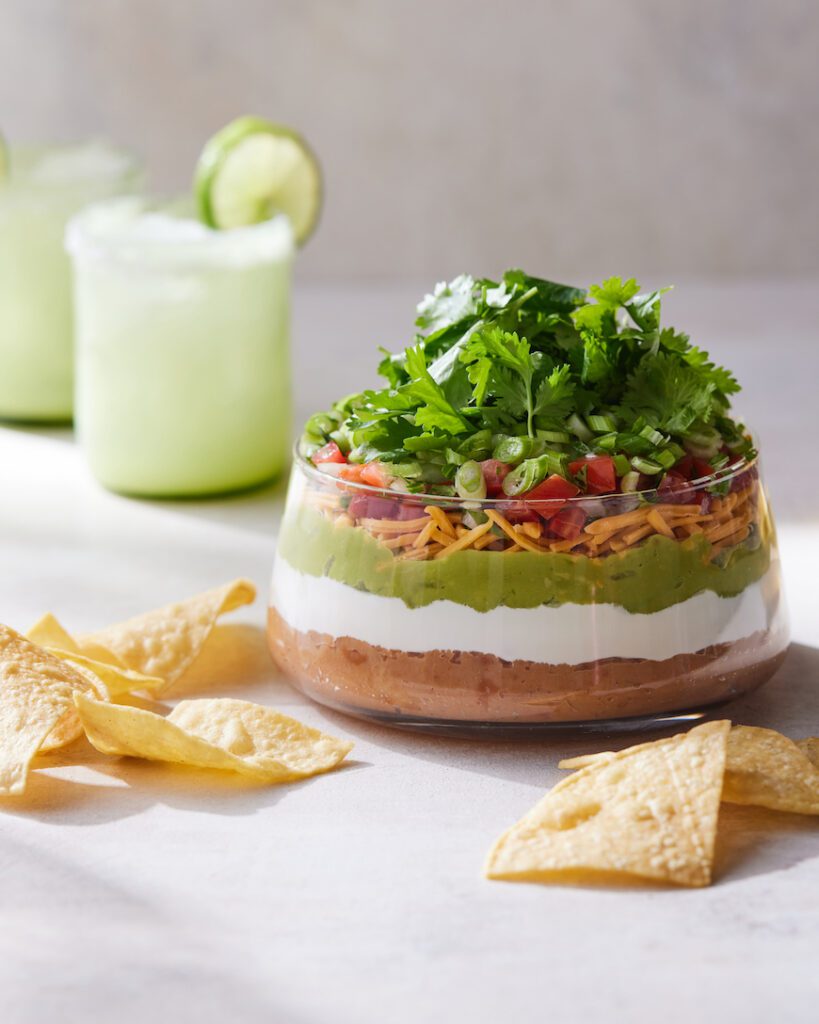 Here's the thing – 7 Layer Dip is incredible. It's all my favorite things in 1 vessel and it's consumed with tortilla chips, what's not to love. BUT… because it's so simple, it has to be done right. No shortcuts when it comes to store bought guacamole. No skimping on the cheese. In my case, hold the black olives and add more herbs. And make sure you're using a great salsa. All of that… and then you're in business! Let's break it down shall we:
Here's how to make the BEST 7 Layer Dip
Bottom layer: re-fried beans. If you're near a Trader Joe's and can grab the refried beans that have a little bit of salsa mixed in, that's a pro-move!
Next layer: Sour Cream. Full fat here guys. Always. Give it a healthy layer so every bite is creamy and delish.
Coming up next: Guacamole. Homemade is def preferred, otherwise get it freshly made from your local market.
Next: copious amounts of Shredded Cheddar Cheese.
On top of that… pico de gallo or your favorite salsa!
Scallions come next and are an integral part of the perfect bite!
Last but not least… Cilantro. Some people do olives and while I LOVE an olive, it doesn't belong in this dip if you ask me!
Layer those delicious ingredients in a vessel or plate or whatever else you'd like and serve them up with a bag or two of tortilla chips and you're in business! And if you're going for the gold, here's a tutorial on how to make your own tortilla chips that are fresh AF!
7 Layer Dip
Hands down the best 7 Layer Dip you'll ever make!
Ingredients
1-2

cups

refried beans

2/3

cup

full fat sour cream

1

cup

homemade guacamole

1 1/2

cups

freshly shredded cheddar cheese

2/3

cup

homemade pico de gallo

or your favorite salsa

1/2

cup

finely sliced scallions

1/2

cup

chopped cilantro
Instructions
Layer the ingredients in order of appearance and serve.