My motto this month: all stone fruit, all the time. I'm going to go full throttle on the cherries, peaches and nectarines until I can't possibly consume any more, so let me introduce you to this Cherry and Peach Panzanella!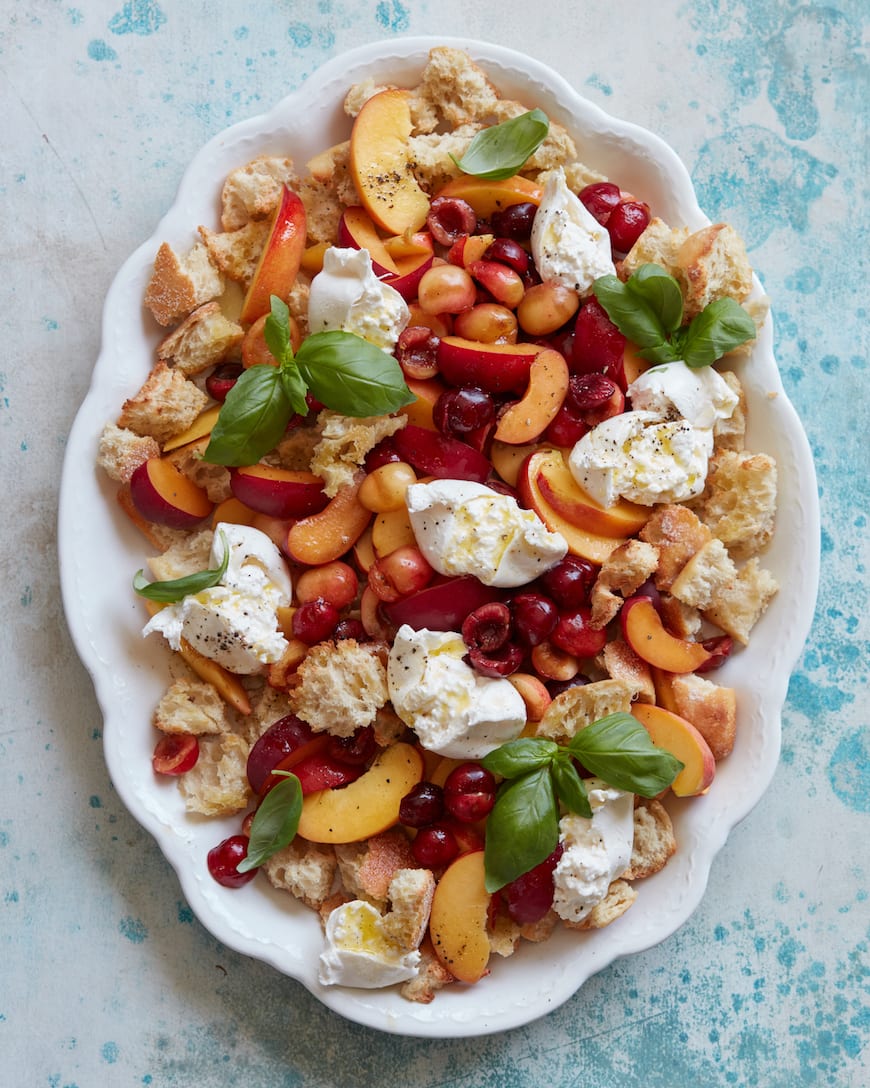 Let's break it down shall we? Peaches. Cherries. Freshly made croutons. Burrata cheese. Basil. Lemon Champagne vinaigrette. Done and done.
It's quite simple but that's the beauty of it! When you're dealing with the freshest seasonal produce available, you don't need much to really make a statement. Just let the ingredients shine on their own and toss it all together with a vinaigrette. I used ciabatta bread for the croutons, but you could use any french bread, sourdough, or anything else along those lines and the result will be equally as fantastic!
Cherry and Peach Panzanella
Ingredients
12

ounces

Burrata

2

Nectarines

cut into wedges

2

Plums

cut into wedges

2

Peaches

cut into wedges

1

cups

red cherries

pitted and halved

1

cups

Rainier cherries

pitted and halved

Maldon Sea Salt + Freshly cracked black pepper

Basil for garnish
For the torn croutons
1/4

loaf ciabatta bread

olive oil
For the Champagne Vinaigrette
2

garlic cloves

finely chopped

1/4

cup

champagne vinegar

2

tablespoons

fresh lemon juice

2

tablespoons

honey

1/2

teaspoon

salt

1/2

teaspoon

freshly ground black pepper

1/2

cup

extra virgin olive oil
Instructions
To make the croutons:
Preheat the oven to 425 degrees F. Tear the ciabatta bread into bite sized pieces. Transfer to a baking sheet and drizzle with olive oil. Place the baking sheet into the oven and toast until the bread it crisp. Remove and use on the salad as needed.
To make the Champagne Vinaigrette
Combine everything in a small bowl and whisk to combine. Adjust salt and pepper as needed.
To assemble
In a large bowl, arrange the fruit, torn croutons and pieces of burrata cheese. Season with salt and pepper and drizzle with the vinaigrette. Top with basil.
Photo by Matt Armendariz / Food Styling by Adam Pearson / Recipe from What's Gaby Cooking