Peak summer salad vibes are happening with this Watermelon Peach Salad loaded with cooling cucumbers, salty feta and some fresh mint!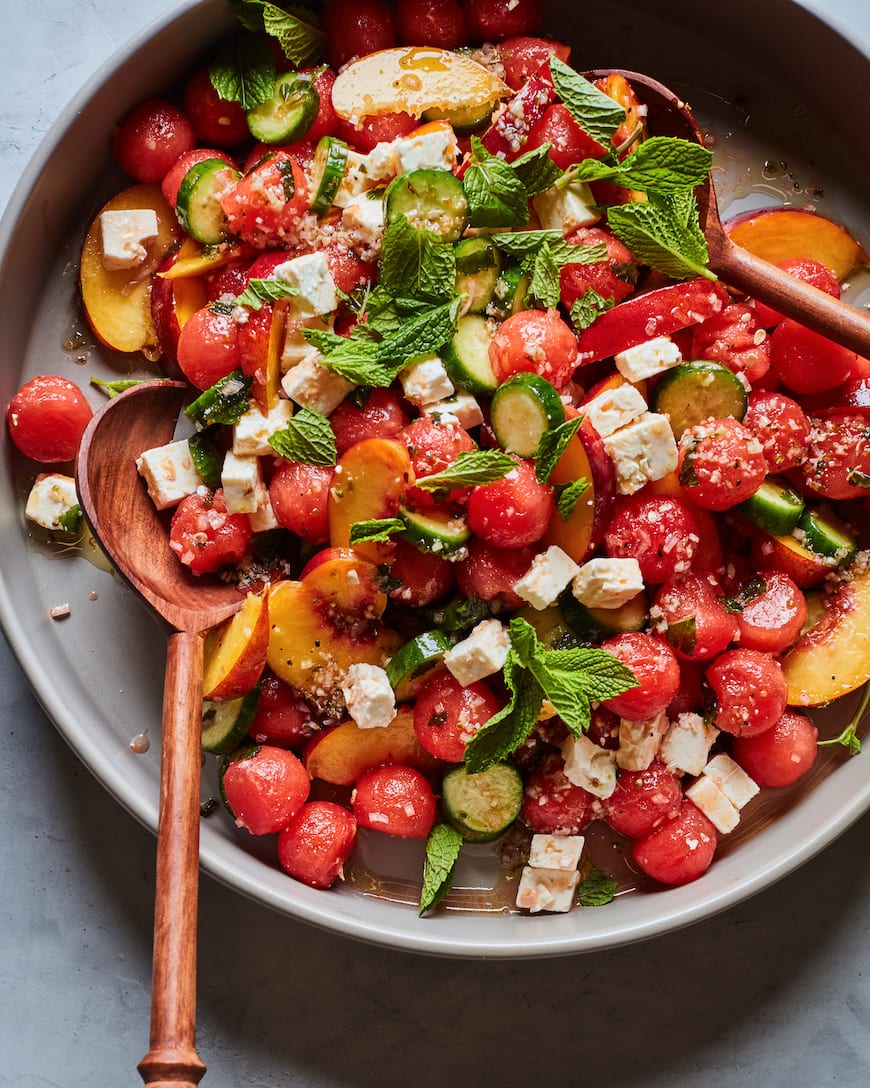 What is a Summer Salad?
Summer salads are some of my favorite types of salads because of all the different types of fruits and vegetables that are in season. In its most basic form, a summer salad is a salad that uses produce that is ripe during the summer months.
With summer in full swing, we've done it again! Another summer salad that will boggle your minds. This time it's a Watermelon Peach Salad with fresh watermelon (red or yellow will work!), perfectly ripe peaches (although nectarines are just as amazing), Persian cucumbers, salty briny feta, fresh mint and a delicious oregano vinaigrette. It's easy, required no cooking, and works alongside any main course.
How to make a summer salad?
When it comes to summer salads, there is no wrong combination. Since there is an endless amount of fresh produce that is in season you can really get creative. I like to mix and match various fruits and vegetables to give the salad a variety of texture and flavor. Many of my summer salads use Cucumber for a nice refreshing crunchy texture. I like to use chopped up stone fruit for some sweetness and mint or basil for a lingering cool effect to finish off the bite. As for a cheese I love going with Feta, literally perfect for almost every summer salad. Finally to bring everything together I opt for a simple vinaigrette.
Two quick points when it comes to watermelon! If you've never marinated your watermelon before, just even for an hour or so, prepare to never look back! It gives it that extra flavor boost and makes it even more delicious!! And if you're questioning putting a vinaigrette on top of watermelon, get on board. The shallots and garlic with the salt and pepper add the most glorious flavors you could ever imagine!
Need a few more summer salads to keep you inspired:
Watermelon Peach Salad
Peak summer vibes with this Watermelon Peach Salad with feta, cucumbers and fresh mint + a simple vinaigrette!! Works as a side to basically any main course!
Ingredients
1

small

seedless watermelon, cut into 1 inch cubes or melon balls

1

shallot, finely chopped

4

tablespoons

torn mint plus extra for garnish

2

tablespoons

olive oil

Kosher salt and freshly cracked black pepper to taste

1

sheet

fresh feta cheese, cut into 1/2 cubes (about 1/2 cup once cubed)

2

yellow peaches, sliced

3

Persian cucumbers, sliced into ½ inch thick rounds
For the Vinaigrette
4

tablespoons

olive oil

3

tablespoons

red wine vinegar

3

cloves

garlic, chopped

1

shallot, finely chopped

1

teaspoon

dried oregano

Kosher salt and freshly cracked black pepper to taste
Instructions
Combine the watermelon, shallots, and mint in a large bowl with the olive oil. Season the mixture with salt and pepper and toss to combine. Transfer to a fridge and let marinate for at least 1 hour, up to 3 hours.

Remove from the fridge and add the sliced peaches, cubed feta, cucumbers and toss to combine. Transfer to a serving platter, drizzle with the vinaigrette and season with salt, pepper and extra mint.

In a small bowl whisk together the vinaigrette ingredients and drizzle over the salad. Season to taste, adjusting as needed.