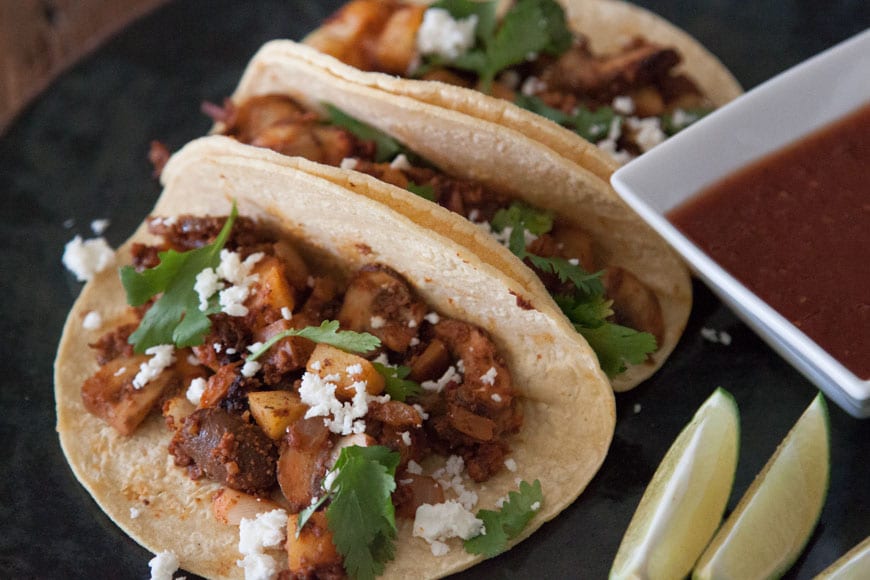 Let's eat some 'shrooms. Like how about some Mushroom, Potato & Chorizo Tacos? I'm into it.
Remember that time I went to Austin (last weekend) and didn't eat a single taco!! Who am I!? This is 100% unacceptable behavior. Not to worry though, I'll be back in Austin soon enough. My sister is most probably moving there by the end of summer and I plan on visiting way more than necessary. As an older sister, it's my job to be annoying and overstay my welcome. And freeload on her couch while I eat my way through the city. And make her drive me from restaurant to restaurant because she lives there and will have a car. Kthanksbye
No but really, how does one person go to Austin and not eat any tacos? This is really bad. So I came home and (after a 3 hour nap) whipped up a batch of these Mushroom, Potato & Chorizo Tacos. I'm obsessed with 'shrooms. Eat them as much as possible, and I'm loving them in these tacos.
The potatoes, chorizo and mushroom all work perfectly together to give you a filling taco that isn't greasy but filling. I had high hopes of serving these with some guacamole, but I ate it all before I went in for the photo. Typical behavior.
So instead I topped these little tacos with some crumbled cotija cheese, a few sprigs of cilantro and some salsa on the side. If you're going to show some self-control, clearly something I lack, I'd suggest serving these up with some smoky chipotle guacamole.
My hubby gave this one 2 thumbs up 🙂
It's a quick and easy and PERFECT summer meal! And you it's great because I've been slowly reducing the amount of meat we eat, and mushrooms are a great substitute! Assuming my hubby doesn't read this blog post, he'll never know my secret.
Mushroom, Potato and Chorizo Tacos
Ingredients
2

medium red-skin potatoes cut into 1/2-inch cubes

about 1 1/2 cups

6

ounces

Mexican chorizo sausage

casing removed

1

small yellow onion

finely chopped

10

ounces

baby bella or cremini mushrooms

thinly sliced

12

soft corn tortillas
Optional Toppings:
Lime

Cilantro

Cotija Cheese

Salsa
Instructions
In a medium pot, add potatoes and cover with water about 1 inch above the potatoes. Place the pot on a burner on high and boil until tender, about 10 minutes. Drain, and set aside.

In a large cast iron skillet over medium heat, combine the chorizo and onion. Sauté, stirring very frequently, until sausage is cooked through and onion is soft, about 10 minutes.

Add the sliced mushrooms and cook for about 5-7 minutes more until the mushrooms have cooked down.

Add the potatoes and stir to combine. Let the entire mixture cook for about 5 minutes more until the potatoes are just golden brown.

Reduce the heat to low and set aside.

Wrap tortillas in a warm, damp kitchen towel, put them on a microwave-safe plate dish, and warm them in the microwave for 4 minutes.

Top each tortilla with the mushroom, potato chorizo mixture and any desired toppings and serve immediately.