I am 100% obsessed with these Parmesan Braised Leeks and I cannot be stopped!
Here's the thing about leeks – they are absolute perfection when done properly. Similar to that of Brussels and/or Asparagus, they don't take much effort and they are best when done simply with a little zip and some crisp. I was talking to one of my girlfriends a few months ago who has a baby a few months older than Poppy – and she shared that her son was going to TOWN on Braised Leeks. Obviously, I marched straight to the store and bought some for us to try and home. You guys… these are legit candy. The leeks are so soft but have a little texture to them from the broiler. The parmesan gives them a nice salty finish. They don't need lemon juice to taste, but you're more than welcome to add it! They are quite possibly, the best spring side dish I've made in recent years. And that's really saying something because we know I love my Parm Panko Asparagus!
A quick note on buying leeks – look for long leeks that aren't dark green. The dark green part of the leeks is trimmed and discarded, so it's not ideal. You want them to be as light green as possible as those leaves are more tender and delicious.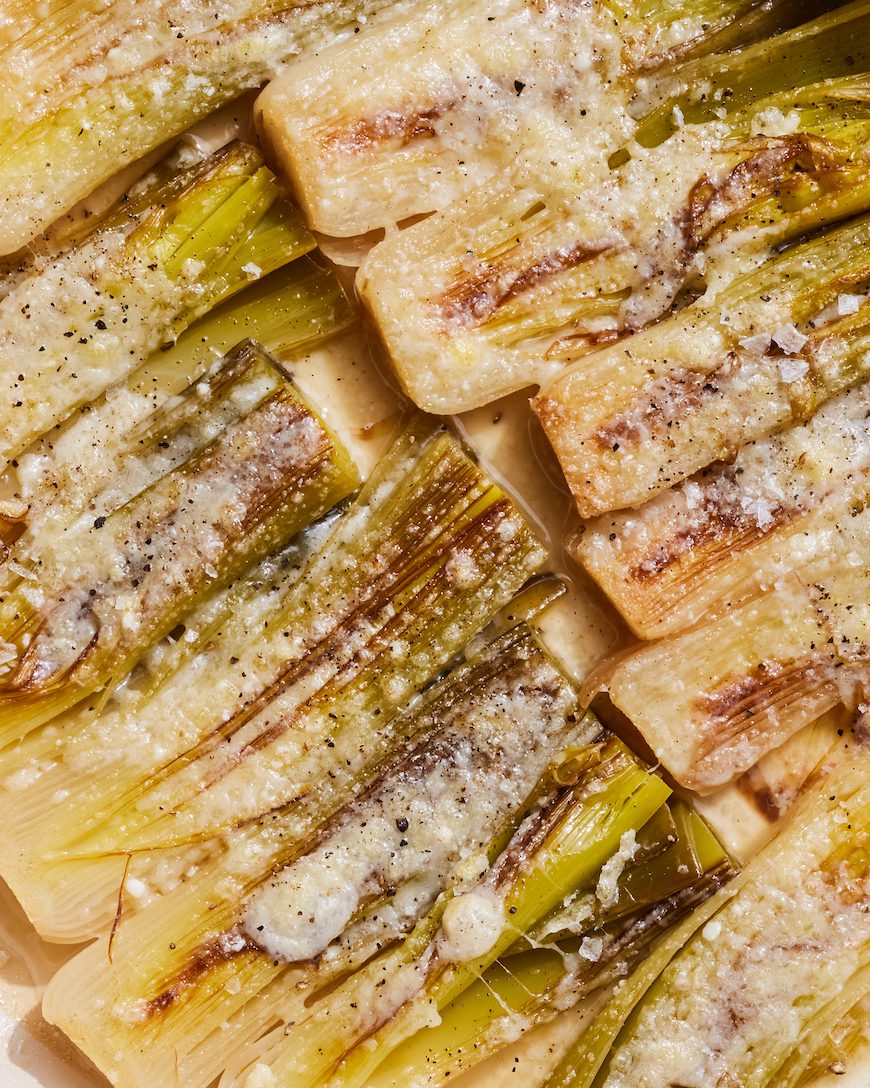 Need a few more Spring Side Dishes:
Braised Leeks
While these braised leeks are truly the most perfect spring side dish, I also need you to know they are currently Poppys fav vegetable and she's eating them like candy! A win for everyone involved!
Ingredients
6

medium leeks

2

tablespoons

olive oil

extra virgin

Kosher salt and freshly cracked black pepper

1/2

cup

dry white wine

(like sauvignon blanc or chenin blanc)

1/2

cup

freshly grated Parmesan
Instructions
Prep the leeks by cutting the root ends about 1/3 inch and removing all of the dark green leafy park of the leeks on top. Then cut in half lengthwise. Keeping the leeks in tact, transfer them to a bowl and them thoughougly rinse them to remove all dirt. Once clean, give a final rinse and remove to a clean towel to dry off.

In a wide, heavy bottom skillet or braiser, heat the olive oil over medium heat. Place the leeks in the pan into an even layer, cut side down, and cook until they are lightly browned, 3 to 4 minutes. Use a pair of tongs to move them every few minutes to ensure they don't stick. Using the tongs, turn the leeks over and cook on the other side until they are lightly browned, 3 to 4 minutes more. Season with salt and pepper. Flip the leeks back over so that the cut side is down and pour in the wine. Scrape up any brown bits on the bottom of the pan, then add enough water or stock to just cover the top of the leeks. Bring to a boil, reduce the heat and simmer uncovered for 20 to 25 minutes, until the leeks are fork tender. Most of the liquid should evaporate at this point

Preheat the broiler. Using tongs, turn the leeks so that the flat side is up. If there is still a lot of liquid in the pan, carefully pour it off. Sprinkle the Parmesan over the leeks. Place the skillet/braiser into the broiler for 2-3 minutes until the cheese has melted and is beginning to turn golden brown. Remove from the heat and serve. Adjust salt and pepper to taste. Garnish with lemon juice if desired.
Notes
When you're buying leeks, look for medium sized leeks that are HUGE. If the outer layers are super tough, you can discard them while cleaning to ensure that the leeks are super soft when serving. 
Nutrition Information
Calories:
221
kcal
|
Carbohydrates:
21
g
|
Protein:
6
g
|
Fat:
11
g
|
Saturated Fat:
3
g
|
Polyunsaturated Fat:
1
g
|
Monounsaturated Fat:
6
g
|
Cholesterol:
11
mg
|
Sodium:
247
mg
|
Potassium:
285
mg
|
Fiber:
2
g
|
Sugar:
6
g
|
Vitamin A:
2334
IU
|
Vitamin C:
16
mg
|
Calcium:
192
mg
|
Iron:
3
mg