These Parmesan Roasted Potatoes are about to become your GO TO potato side dish! Crispy and savory and absolutely perfect!
These are like candy. 100% addictive. Once you start, you just can't stop. If you knew the amount of potatoes we consumed in a week, you'd be shocked. I'd venture to say we go through at least a 3 lb bag of potatoes once a week. And there are just 2 of us… and 1 of us eats more than his fair share. Just sayin. THOMAS I AM LOOKING AT YOU.
I always, without fail, make these with Yukon Gold potatoes because here's the truth… I'm too lazy to peel the skins off potatoes. And Yukon Gold's have such a pretty skin you don't have to peel them off. Plus the skin has some key vitamins and who doesn't want a few extra perks.
This is more a technique rather than a recipe, since you can scale these potatoes up if you're cooking for a crowd. You could also throw in some extra herbs if you're feeling the need to incorporate some thyme or rosemary or whatever you have on hand. But these roasted potatoes that I'm about to show you, are total rock stars and always disappear at dinner parties.
Tips for Parmesan Roasted Potatoes:
1: Start with the naked cubed potatoes. I LOVE Yukon Golds, but you can use this method with any potato. If you use a Russet, make sure to peel them first.
2: Add on all the seasonings and using your clean hands, go ahead and toss everything together and transfer to a baking sheet. Best to line it with parchment paper for easy clean up.
3. Put them in the oven for about 20 minutes. Take them out and give them a quick toss with some tongs. Then stick them back in to the oven and let them work their magic for another 15-20 minutes. Repeat the toss and finish for about 10-15 more. Tossing while baking is KEY so they get extra crispy.
4: Once they are nice and golden and crispy, throw them onto a serving platter….
And just a public service announcement – make a double batch of these Parmesan Roasted Potatoes and then serve them with breakfast the next morning too. I mean… hello breakfast burritos!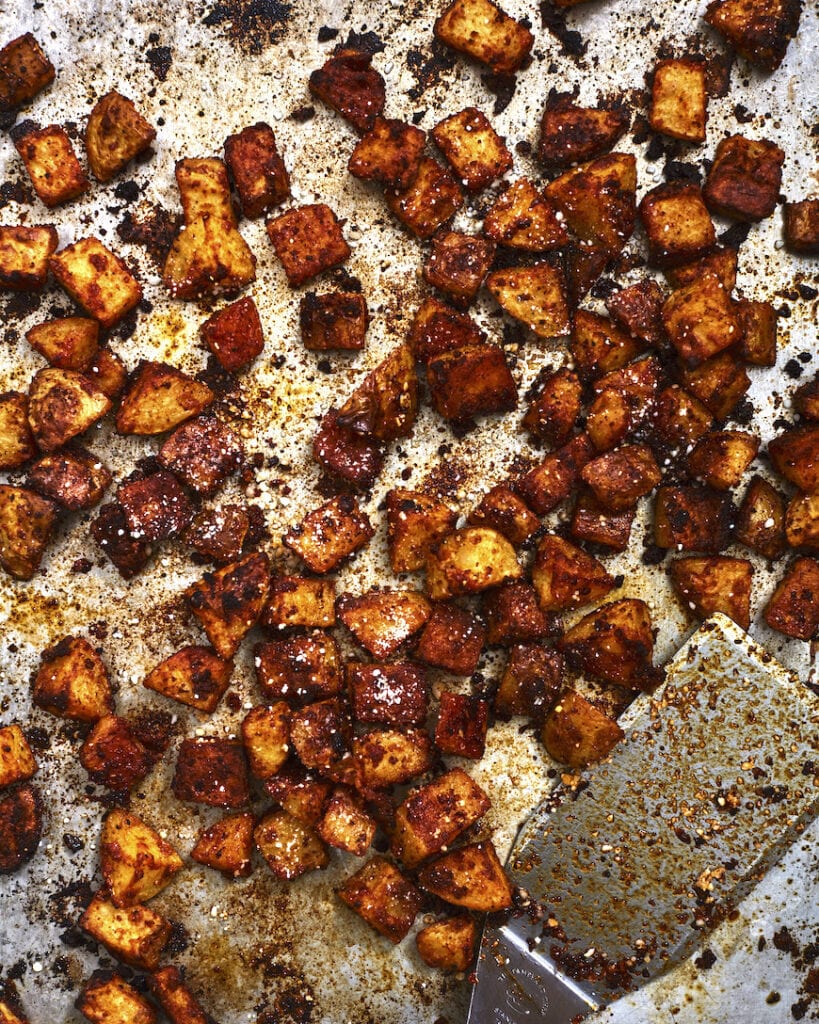 Need more roasted vegetables… look no further! Fully covered on this roasted vegetable tutorial right here!
Did you love this roasted potatoes recipe? Then try these:
Parmesan Roasted Potatoes
Seriously the most perfect Parmesan Roasted Potatoes on the face of the earth.
Ingredients
4

large

Yukon Gold potatoes

cut into ½ inch dice

3

tablespoons

olive oil

3

teaspoons

paprika

2 1/2

teaspoons

granulated garlic

1

teaspoon

kosher salt

3/4

teaspoon

freshly ground black pepper

4

tablespoons

freshly grated Parmesan cheese

optional
Instructions
Preheat your oven to 425 degrees.

Place the cubed potatoes onto a parchment lined baking sheet. Toss with the olive oil, paprika, granulated garlic, kosher salt, and pepper until the seasonings are evenly combined. Add the parmesan if desired.

Transfer the baking sheet into the oven and bake for 20 minutes. Remove from the oven and toss the potatoes with a pair of tongs. Put the baking dish back into the oven and bake for an additional 20 minutes. Remove the baking sheet and give them a final toss and place them back in the oven and roast until they are golden and crispy, about 10-15 minutes more.

Remove from oven, dust with extra salt as needed and serve.
Photo by Matt Armendariz / Food Styling by Adam Pearson / Recipe from What's Gaby Cooking