Let's talk about cookies. Peanut Butter Oatmeal Cookies to be exact!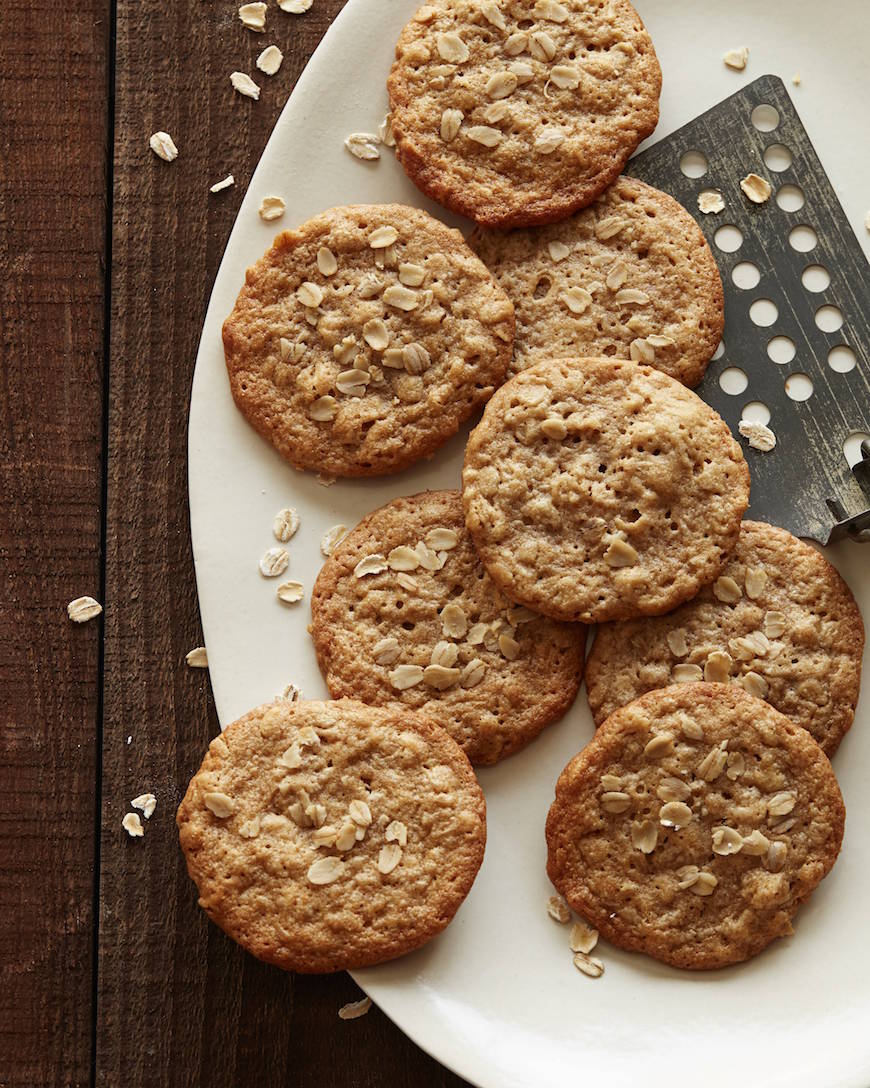 I mean I think it's safe to say that I've pretty much covered the cookie realm. Gooey Crinkle Cookies. Molasses Cookies. Breakfast Cookies. Chocolate Chip Cookies. I love a good chewy cookie. Anything that's slightly undercooked in the middle is the name of the game. Crispy on the outside, chewy on the inside – it's my idea of perfection and these Peanut Butter Oatmeal Cookies fit the bill.
Cookies are my favorite way to say thank you. To say I love you. To say, thanks for being awesome. I suppose it's safe to say that if I need to gift someone something, it's more than likely going to be a cookie! These peanut butter oatmeal cookies are beyond easy to make too! And if you're feeling extra fancy, you can give them a quick drizzle of chocolate once they are done baking/cooling because the addition of chocolate is ALWAYS a good idea!
Gobble them up and pass them out in one sitting / or pop them in a zip top bag and store them in the freezer for when your sweet tooth strikes. They keep for about 2 months in the freezer, although full transparency… I've never had them on hand for more than a week or so. Somebody (me) just polished them off very very quickly!
Peanut Butter Oatmeal Cookies
Ingredients
1/2

cup

butter

at room temperature

1

cup

brown sugar

1

large egg

1 1/2

tsp

pure vanilla extract

1/2

cup

smooth peanut butter

1

cup

all purpose flour

1/2

tsp

baking soda

1

pinch

kosher salt

1

cup

old fashioned oats

melted chocolate

optional
Instructions
Preheat the oven to 350 degrees F. Line 2 baking sheets with parchment paper and set aside.

In a large stand mixer, cream together the butter and sugar for 2-3 minutes.

Add in the egg and vanilla and mix until well combined. Be sure to scrape down the sides of the bowl.

Add the peanut butter and mix.

Add the flour, baking soda and salt and mix until the flour is just combined.

Remove the bowl from the stand mixer and fold in the oats.

Using a medium sized cookie scoop, scoop 12 cookies onto each baking sheet. Bake for 12 minutes and then remove from the oven. If you don't want a chewy center, bake the cookies for about 13 - 14 minutes. Once the cookies are removed from the oven, let them sit on the baking sheet for a few more minutes before transferring them to a cooling rack.

Repeat the process with any remaining dough and store the cookies in an air tight container.

Drizzle with melted chocolate if needed.
Photo by Matt Armendariz / Food Styling by Adam Pearson / Recipe from What's Gaby Cooking