CHRISTMAS IS COMING (and so is Santa) and that means big things are happening today… namely a Peppermint Bark S'mookie!
Holy cow! Where has the year gone? I can't even begin to comprehend the fact that it's December and Secret Santa parties, cocktail parties, holiday get-togethers are here! Wasn't it just summer a few minutes ago? Not to mention, I STILL haven't even finished my Christmas shopping – yikes! But I have managed to make plenty of time to bake… at least I have my priorities straight!
Peppermint Bark S'mookies are some of my favorite treats to make this time of year! That and Christmas Mix! I just love them… and eating while they are hot and toasty is my favorite way to unwind after a long day! S'mookies are a modern take on a s'more and instead of using graham crackers you can use your favorite kind of cookie, I made some Smookie's a few months ago and they were fabulous! For these Peppermint Bark S'mookies, it's all about 2 sugar cookies, peppermint bark (either homemade or store bought) and some marshmallows.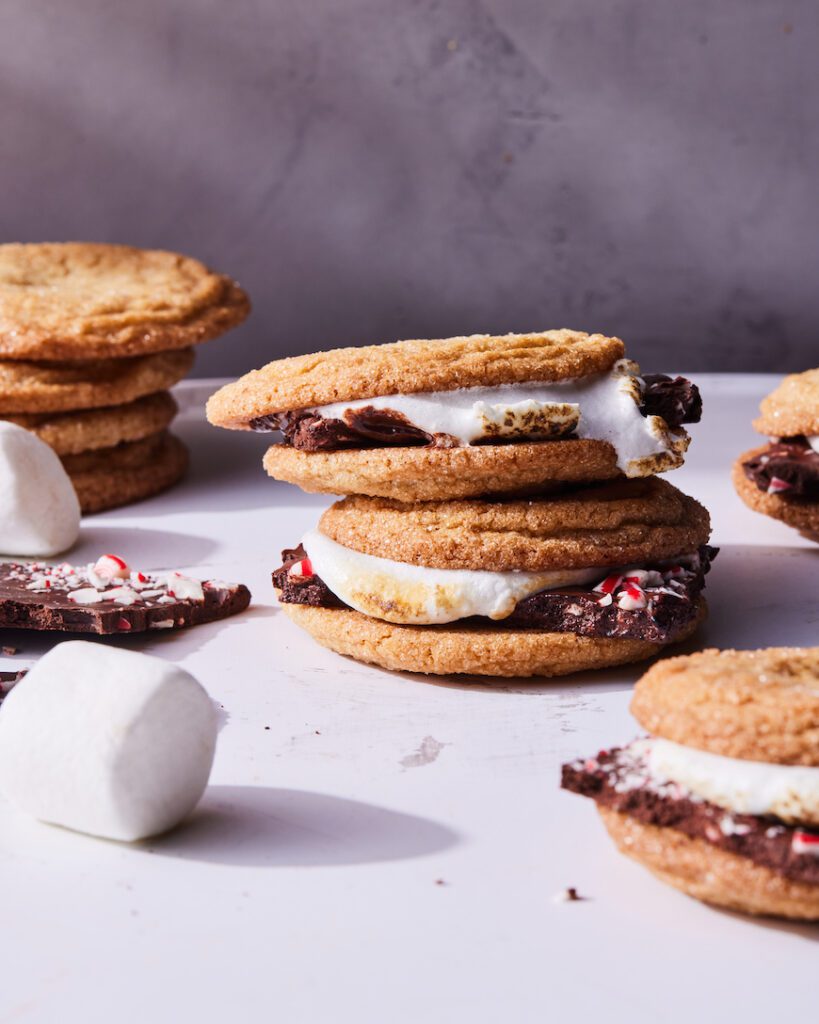 Once you have all your ingredients, all that's left is to get crafty! You construct a s'mookie as you would a regular s'more, Cookie on the bottom, a piece of peppermint bark, a few marshmallows and another cookie to top it all off. Depending on how quickly you need to gobble one up you can do 1 of 2 things.
1: Wrap the entire thing in tin-foil, bake it in the oven for about 10 minutes on 300 degrees, take it out of the oven, unwrap it and gobble it up while its still warm!
2: Toast the marshmallow over an open flame before adding it to the s'mookie and let the residual heat from the marshmallow melt the chocolate.
Have at it my friends! Peppermint Bark S'mookies all around this holiday season!
What you'll need:
Peppermint Bark S'mookies
Ingredients
For the Peppermint Bark
16

ounce

60% Chocolate chips

8

Candy Canes crushed into different sizes

1

teaspoon

peppermint extract

Large marshmallows

for assembly
For the Sugar Cookies
1

cup

unsalted butter at room temperature

(DO NOT MELT)

1

cup

packed brown sugar

1

cup

white sugar

2

eggs

at room temperature

2½

cups

all purpose flour

(measured by scooping the flour and leveling with knife)

1

teaspoon

kosher salt

1

teaspoon

baking soda

1

teaspoon

baking powder
Instructions
For the Peppermint Bark
Line a baking sheet with parchment paper and set aside. Using a double boiler melt the chocolate until it is a smooth consistency. Add in the peppermint extract and stir. Fold in 1/2 of the crushed candy canes. Pour the chocolate mixture onto the baking sheet into a thin layer. Sprinkle the rest of the crushed candy canes on top. Refrigerate for 1-2 hours until cooled and solid. Break into smaller pieces.
For the Sugar Cookies
Cream together the butter and sugars in a mixer for 3 minutes. Add the eggs and vanilla, making sure to scrape down the sides of the mixing bowl. Add the flour, salt, baking soda and baking powder and mix on low until everything is incorporated.

Chill the dough for at least 2 hours.

Preheat your oven to 350 degrees Scoop out 2 tablespoons of dough, and roll it into a ball. Place 9 of the cookie dough balls on a parchment lined baking sheet. Roll with coarse sugar.

For cookies that are soft in the middle (that's how I like them) bake for 10-12 minutes until just slightly golden around the edges. If you want them crisp, bake for 12-14 minutes. Remove from the oven and let rest for 5 minutes before transferring them off the baking sheet and onto a cooling rack.

Form into Peppermint Bark S'mookies – BASICALLY S'MORES BUT WITH BARK + SUGAR COOKIES