Focaccia Bread is perfection at it's core. But a Caprese Focaccia Bread is truly a match made in heaven!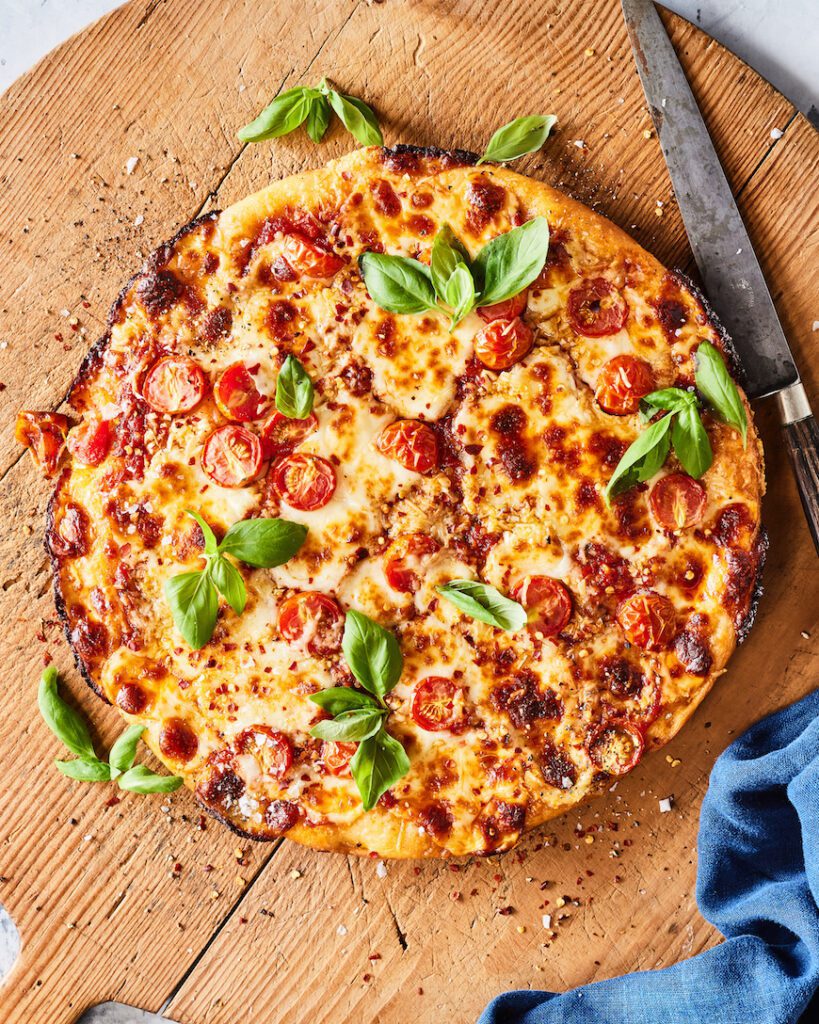 I know we've been resistant to turn our ovens on in the last few months but I'm slowly coming around to the idea. You'll have to bear with me in the next few weeks as I oscillate between the end of summer recipes and fall cooking. But this Caprese Focaccia Bread is kinda a mixture of both. We've got summer tomatoes, tons of basil, a healthy dose of mozzarella and of course a sauce to make it saucy and delish.
Caprese Focaccia Bread
This Caprese Focaccia Bread will absolutely knock your socks off with the perfect crusty crust, gooey cheese and tons of delish tomatoes and basil on top making it perfect decadent treat.
Ingredients
For the Pizza
3

tablespoons

olive oil

1

batch

dough, recipe below

1

cup

Vero Gusto Tomato & Basil Sauce

8

ounces

brick style whole-milk mozzarella cheese, cut into 1/2-inch cubes

1/2

cup

cherry tomatoes

1/2

cup

shaved parmesan cheese

1/4

cup

olive oil mixed with 8 cloves garlic

red pepper flakes and basil to garnish
For the Dough
2 1/4

cups

all purpose flour

2

teaspoons

kosher salt

1

teaspoon

rapid rise yeast

1

teaspoon

white sugar

olive oil as needed
Instructions
For the Dough
Put the flour, salt, yeast and sugar in a food processor with a metal blade attachment and pulse to combine. Add 1 cup warm water, then process until a ball forms, about 30 seconds (if a ball does not form, add a bit more flour). Process for another 30 seconds, then roll into a tight ball and place in a lightly oiled bowl. Proof in a warm spot until the dough doubles in size, about 2 hours.
For the Pizza
Position an oven rack in the bottom of the oven and preheat to 500 F.

Pour the 3 tablespoons of olive oil in a large cast iron pan (roughly 12 inch diameter). Put the dough in the pan and gently stretch it out to fit so the dough reaches the corners.

Drizzle half of the garlic oil sauce on top and then the Vero Gusto Tomato & Basil Sauce. Top the duo of sauces with half of the parmesan cheese. Then lay the cheese cubes all over, especially around the perimeter up to the edge of the pan. Drizzle the rest of the garlic oil sauce on top and scatter with the remaining parmesan cheese and the halved cherry tomatoes

Bake until bubbly and golden and a crispy cheese crust has formed, 10 to 15 minutes. Use spatula to loosen up the edges and remove the pizza from the metal pan and place on a cutting board. Slice into squares and serve with garnishes