Easter is coming, as is Mother's Day (my first one!) and this Orange Glazed Bundt Cake is next level amazing!! I'd show you the photo of how my neighbor ate it with bare hands, but I've been sworn to keep that private!
So, we all know Ina is the queen of all things baking. I've made just about everything she's ever published except the bundt!! And obviously, it was bound to happen. So, I gave her traditional bundt a spin and crafted this Orange Glazed Bundt Cake and OMG IT'S PERFECTION.
The cake itself is so moist and the glaze is amazing. The pops of citrus from the orange juice and orange zest give it so much flavor and it's the best kinda cake you could make for any and all spring-time occasions!! It's made with regular pantry staples plus Florida's Natural orange juice! The juice brings a fresh-from-the-grove taste to your kitchen and is the perfect addition to this cake.
We've stocked Florida's Natural orange juice in the Dalkin house for years. I'm sure you've seen it the few times I've given you a sneak peek into my fridge!! It's made from one simple ingredient—Florida oranges. There are no artificial flavors or ingredients, and no added water, sugar or preservatives which 1: makes it the most delish and 2: makes me feel really good about it. Anyways – it's the star of the show in this Orange Glazed Bundt Cake!! And it's probably best if you make this immediately!!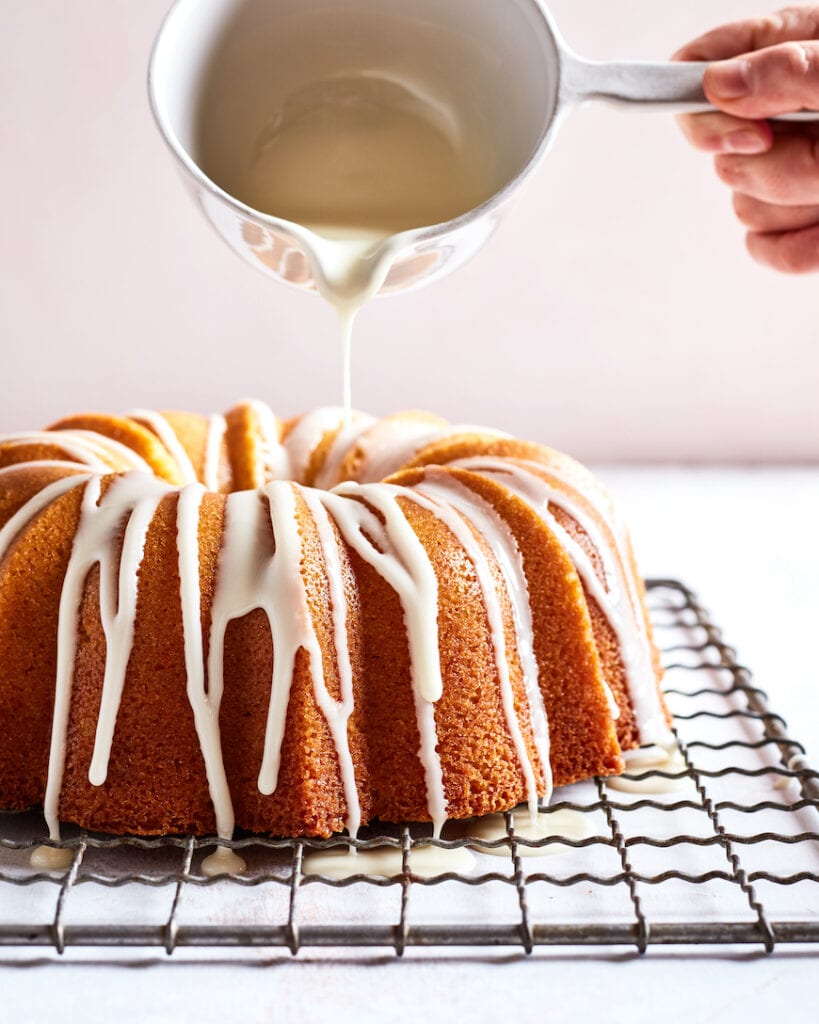 Side note: if you do not have a bundt pan, you can make this in 2 loaf pans instead! Baking time will be adjusted so just keep your eyes on it and use the knife test to test for doneness!
Orange Glazed Bundt Cake
The most gorgeous Orange Glazed Bundt Cake that serves a crowd and makes for the most perfect addition to your breakfast or brunch!
Ingredients
1

cup

unsalted butter, at room temperature

2 1/2

cups

white sugar, divided

5

eggs, at room temp

1

teaspoon

vanilla extract

1/3

cup

grated orange zest, loosely packed (from roughly 2 oranges)

2 3/4

cup

all-purpose flour

1/4

cup

cornstarch

1

teaspoon

kosher salt

1/2

teaspoon

baking powder

1/2

teaspoon

baking soda

3/4

cup

Florida's Natural No-Pulp Orange Juice

1

cup

buttermilk
For the Glaze
1

cup

sifted powdered sugar

1 1/2

tablespoons

Florida's Natural No-Pulp Orange Juice 
Instructions
Preheat the oven to 350 degrees F. Spray the inside of a Bundt pan with the baking spray and set aside

In a stand mixer with the paddle attachment, cream the butter and 2 cups of the granulated sugar on medium speed for 5 minutes, until light yellow and fluffy. With the mixer on low, add the eggs, vanilla, and orange zest, scraping down the bowl with a rubber spatula as needed.

Sift the flour, cornstarch, salt, baking powder, and baking soda into a medium bowl. In another bowl, add 1/4 cup of the orange juice to the buttermilk. With the mixer on low speed, alternately add the flour mixture and buttermilk mixture in thirds, beginning and ending with the flour. Scrape the bowl with a rubber spatula to be sure the batter is well mixed. Pour the batter into the prepared pan, and bake for 40 to 50 minutes, until a cake tester comes out clean

Meanwhile, place the remaining 1/2 cup of granulated sugar and the remaining 1/2 cup of orange juice in a small saucepan and cook over high heat until the sugar dissolves. Set aside. When the cake is done, allow it to cool in the pan for 10 minutes, then turn it out onto a baking rack set over a large plate. Spoon the warm orange syrup slowly over the cake, allowing it to be absorbed into the cake. Set aside for at least 30 minutes to cool

For the glaze, whisk the confectioners' sugar and orange juice together in a small bowl, adding a little more sugar or orange juice as needed to make a smooth, thick, but pourable glaze. Drizzle over the cake, allowing it to drip down the sides. Transfer to a flat cake plate and serve at room temperature
** This post is brought to you by Florida's Natural. All content, ideas, and words are my own. Thanks for supporting the sponsors that allow me to create new and special content like this for What's Gaby Cooking**