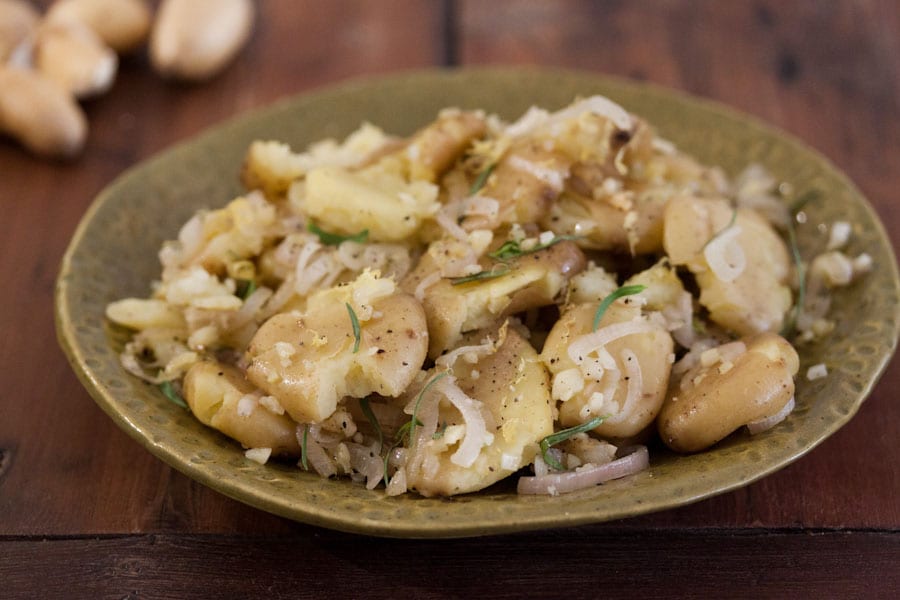 I'm certainly no stranger to potatoes. I love 'em! And eat them pretty much all the time. Roasted Potatoes. Sweet Potato Chips. You name it… and these potatoes are my latest creation from the kitchen and my newest obsession. Smashed Potatoes. Like literally smashed down a little bit so they still stay in one whole piece but they are smashed. Make sense? It's kinda amazing. Here's how you do it…
First you're going to put all your mini baby tots into a pot of water. This then goes onto the stove over high heat. Bring the water to a boil and cook the potatoes until they are fork tender, about 12 minutes for these little babies. Then drain them and set them aside to cool. Once they are cooled….
You'll take each one…
And using a mallet, or another flat heavy tool, slightly smash the potato on a cutting board, just breaking the skin and flattening the potato.
And then it's going to look like this….
Voila! A smashed potato!
Repeat this process for all the potatoes. Then you're going to saute them up with some garlic, shallots, lemon zest, olive oil and red pepper flakes. Once that's done, it's time to eat! And you're probably not going to want to share these with anyone… so it's safe to make a double or triple batch. Smashed Potatoes are just that good!
Fall Fest: Pan-fried Smashed Potatoes with Tarragon
Ingredients
1

lb

baby potatoes

2

tbsp

olive oil

2

cloves

garlic

minced

2

shallots

thinly sliced

1

lemon

zested

1

tsp

red pepper flakes

2

tsp

tarragon leaves

salt and pepper to taste
Instructions
Cover potatoes with cold water in a large pot and add 1 tbsp salt. Boil until almost tender, 10 to 15 minutes. Drain potatoes and let cool slightly. Transfer to a cutting board and lightly crush to about 3/4 inch thick with a mallet, keeping potatoes intact as much as possible.

Heat olive oil in a large skillet over medium-high heat. Transfer potatoes to skillet, and add the garlic, shallots, lemon zest and red pepper flakes. Lower heat after 2 minutes to medium low and continue to cook for 10-15 minutes more until the shallots and garlic are tender.

Season the pan fried smashed potatoes with salt and pepper to taste and sprinkle tarragon leaves on top.