Spring Pasta Carbonara is going down in history as one of the best things I've ever made! Period. End of story. Let's do this!
Peas, Scallions, Lemon, Mint, all things that you wouldn't find in a traditional pasta carbonara but newsflash guys… they are excellent additions in this Spring Pasta Carbonara!
Peas are literally about to be coming out of my ears seeing as how spring is literally right around the corner. And I will be putting peas in everything. When they are done properly… they are amazing!! On top of the peas in this pasta dish, I think by now you all know I put fresh lemon zest and juice on juice about everything. It just adds that extra zip and brightness. Scallions (or green onions) are also in this as a quick and easy way to brighten up any dish. And mint is the most under-utilized herb and I'm determined to make it more popular so it's going in too! You could easily use basil if that's more your speed, but the mint and the peas are a magical combination that everyone needs to try! And if you're on board – this Chicken Skewers with a Cilantro Mint Vinaigrette are also HIGH on my list of life changing combos!
This Spring Pasta Carbonara is light and bright but with that same consistency that you love when eating a carbonara! It's the perfect dish to make for dinners for the foreseeable future as we usher in spring! Throw it on the table with my green monster salad and it's a match made in heaven!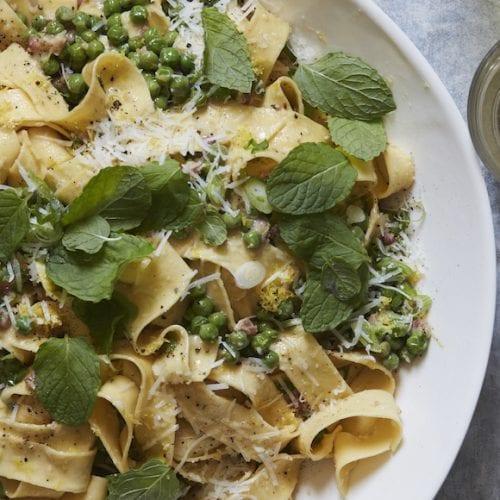 Spring Pasta Carbonara
Ingredients
4

ounces

pancetta

cut into a small dice

Olive oil

10

ounces

fettuccine or linguine

1

lb

fresh English peas

3

scallions

thinly sliced on an angle

1

egg

whisked

½

cup

freshly grated parmesan

½

cup

freshly grated pecorino romano

1

lemon

zested and juiced

Fresh mint for serving
Instructions
Bring a large pot of water to a boil.

Cook the pasta according to the package directions until al dente. If using fresh peas, add the peas 2 minutes before the pasta is done. If using frozen, add 30 seconds before the pasta is done. Reserve 1 cup of the pasta cooking water before draining the pasta and the peas.

In a large heavy bottom dutch oven skillet, add 2 tablespoons of olive oil over medium high heat. Add the pancetta and cook until browned, about 8-10 minutes. Season with pepper and turn off heat.

Add a few tablespoons of the pasta water to the skillet with the oil and the pancetta and whisk to combine and emulsify the fat with the water. Add the whisked egg to the skillet making sure not to scramble it. Add the pasta, peas and scallions into the pancetta and egg mixture. Toss to combine. Add the cheeses and toss to combine again. Add more pasta water as needed to thin. Season with salt, pepper, lemon zest and lemon juice. Serve with plenty of fresh mint on top