Did you guys know it's pizza month? Basically the best food month ever if you ask me – and we're celebrating by kicking it off with Breakfast Pizza.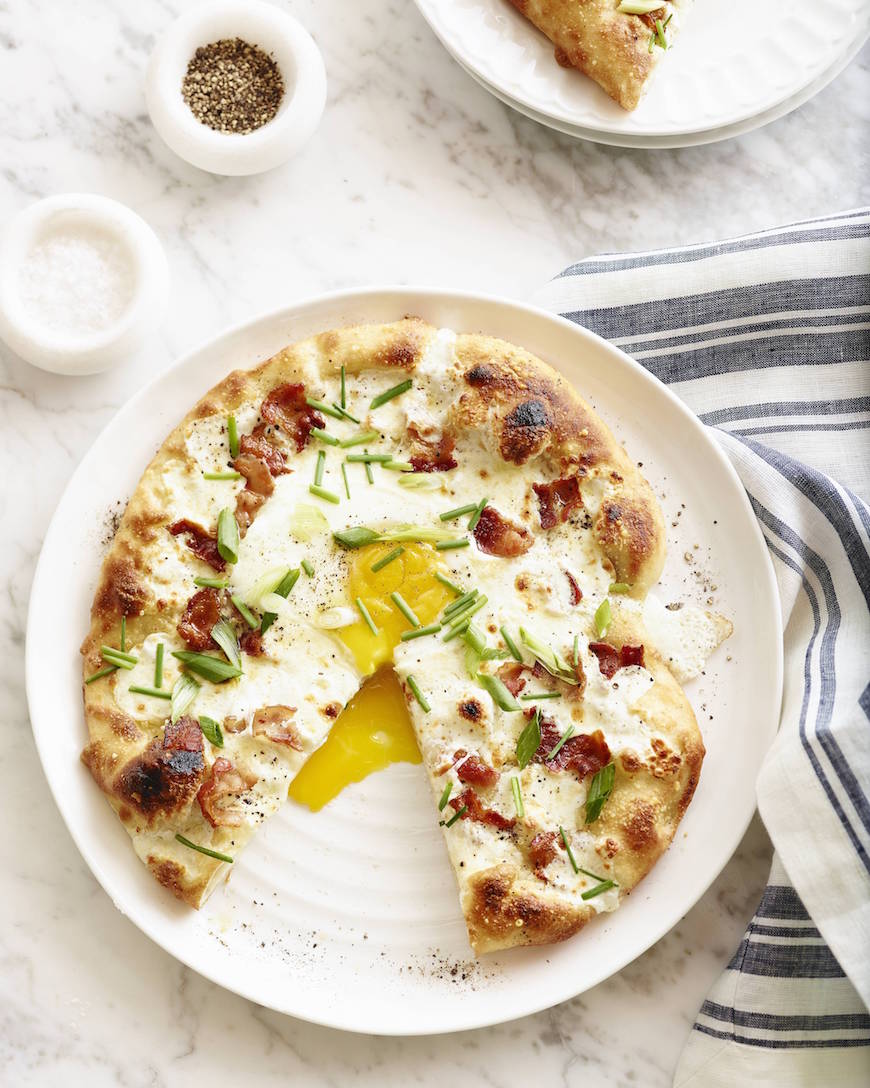 Over the next few weeks I'll be teaming up with Delallo to bring you 4 pizza pies!! They have a delicious new Italian Pizza Dough Kit that's my new bff. To say I'm obsessed would be an understatement! It couldn't be easier to make and I'm getting crafty with the toppings.
Breakfast pizza is one of my ultimate indulgences. Fresh mozzarella with cooked bacon, grated salty parmesan cheese and an egg on top!! What more could you ask for? It's one for the record books and it's basically your go-to when you're whipping up a breakfast that needs to impress! Hop to it… here we go!
Breakfast Pizza
Ingredients
1

Delallo Italian Pizza Dough Kit

Olive oil

2

large balls of fresh mozzarella

torn into pieces

4

bacon strips

cooked

¼

cup

grated parmesan cheese

2

eggs

chopped chives for garnish

chopped scallions for garnish

Kosher salt and freshly cracked black pepper + red pepper flakes
Instructions
Pre-heat your oven to 450 degrees. Thirty minutes before cooking the pizza, put your pizza stone in the oven.

Follow the directions on the Delallo Italian Pizza Dough kit to make the dough. Once the dough is ready, divide the pizza dough into 2 even pieces. Stretch each piece of dough in a circular motion, then lay them both out on a flat surface and flatten out using a rolling pin. If you have a pizza peel, sprinkle some flour on it and place the stretched out dough on the peel.

Once your 2 pizza doughs are flat and ready to be cooked, drizzle the top of each with olive oil.

Tear the mozzarella into pieces and top each pizza with equal amounts of the mozzarella, ripped up bacon and parmesan cheese. Transfer the pizzas into the oven and bake for 12-13 minutes until the crust is golden. 6 minutes into the baking, add the eggs in the middle of each pizza and continue to cook until the egg white is no longer raw.

Remove pizza from the oven. Season with salt and pepper, chives, scallions and red pepper flakes if needed slice and serve.
Photo by Matt Armendariz / Food Styling by Adam Pearson / Recipe from What's Gaby Cooking
** This post is brought to you by Delallo.  All content, ideas, and words are my own. Thanks for supporting the sponsors that allow me to create new and special content like this for What's Gaby Cooking**