In case you missed the last 48 hours here on WGC – we are DEEP into game day eats. And today is no exception. We're making Jalapeño Popper Dip which is one of Thomas' favorite recipes of all times. And maybe I'm biased, but I think he's got pretty good taste.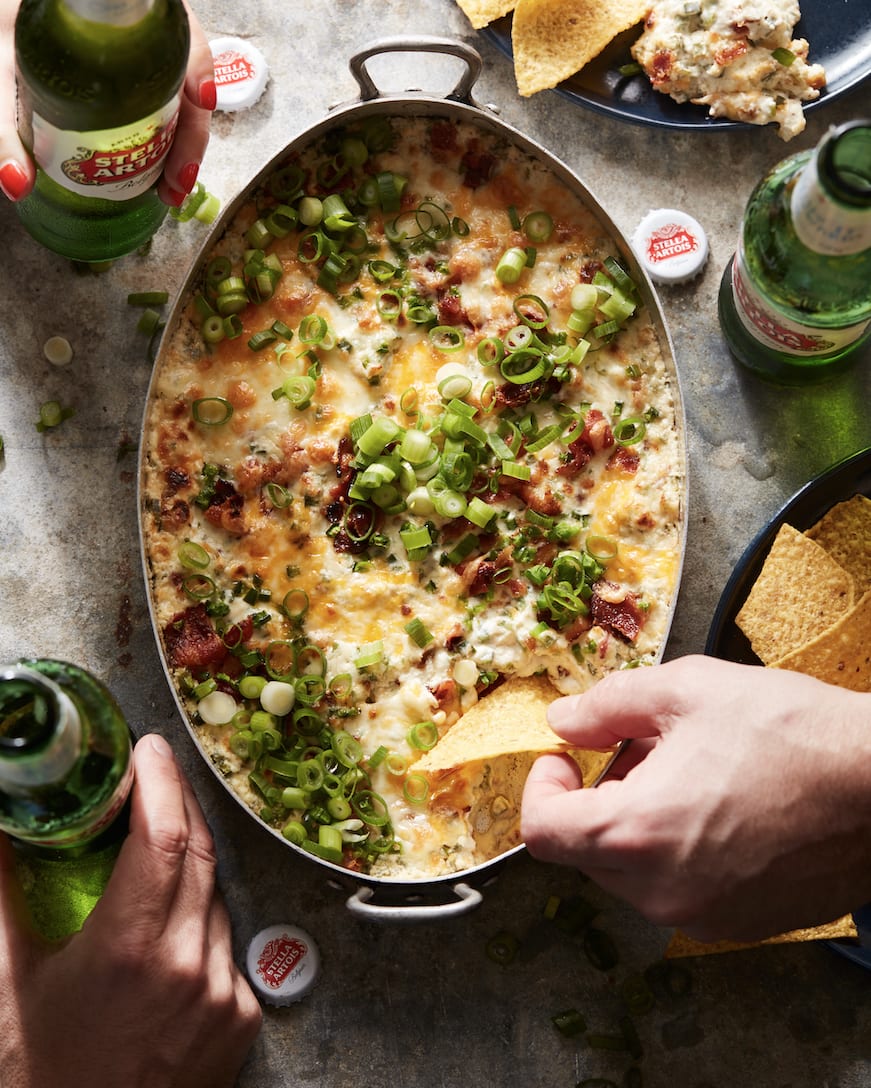 Jalapeño Popper Dip takes the best of a Jalapeño Popper and turns it into dip form. This makes me happy for many reasons. 1: you get to bake the dip off in a skillet which makes it easy to serve. 2: you don't have to assemble 3 dozen individual poppers which is suck a time suck. And 3: it's very easy to skim a little dip off the top before your guests arrive and then cover up any evidence with some extra scallions. You know the drill!
I'll be serving this up with a whole slew of other recipes for the big game and you can bet it's the same set up as our thanksgiving menu. I make all the food, and the guests are in charge of drinks! You can pretty much stake my life on the fact that my dad will be bringing a few 12 packs of Stella Artois. I've trained him well – and he knows what's up. I mean, we named our cat after the beer… it's non-negotiable in this house for any game day celebration! Plus, did you know that when you buy Stella you also are helping to end the global water crisis? The more Stella Artois enjoyed, the more lives can be changed. Pretty much the best way to throw a party… good eats and good deeds.
In case you haven't heard – here's the deal!
For every six-pack of Stella that's sold, Stella Artois and Water.org give 6 months of clean water for one person in the developing world. For every twelve-pack sold – that's 12 months of clean water for one person in the developing world. And if you order a glass (or bottle) when you're at a bar – that's 1 month of clean water for one person in the developing world. So if you haven't already jumped on board the Pour it Forward® movement… there's no time like the present!
Also – You can save $5 on your first Drizly order with code ChangeItUp, courtesy of Drizly. Order Stella to be delivered right to your door! (Must be 21+. New customers only and cannot be combined with any other offer. Per applicable law, value may be applied towards order total or shipping or delivery fees. Includes orders of non-alcoholic items. Not valid in: CT, HI, MO, OH. Offer expires 03/31/19.)
Jalapeno Popper Dip
Ingredients
10

slices

bacon

1

8 ounce package cream cheese, softened

1/3

cup

mayonnaise

1/3

cup

sour cream

1

teaspoon

garlic powder

1

teaspoon

onion powder

3

jalapeños

finely diced

1

poblano pepper

finely diced

1 ½

cups

shredded Colby jack cheese

1 ½

cups

shredded Monterey jack cheese

½

cup

crumbled feta cheese

Kosher salt and freshly ground black pepper

Scallions for garnish
Instructions
Preheat oven to 350 degrees F. In a large nonstick skillet over medium heat, cook bacon, in batches, until crispy. Drain on a paper towel-lined plate, then crumble.

In a large bowl, stir together cream cheese, mayo, sour cream, garlic powder, onion powder, most of cooked bacon (reserve some for topping), all of the poblanos most of the jalapeños (reserve some for topping), and 1 cup each cheddar and Monterey jack and all the feta. Season with salt and pepper.

Transfer to an oven-safe skillet or baking dish and sprinkle with remaining cheese, crumbled bacon, and jalapeño. Bake until dip is golden and bubbly, 15 to 20 minutes. To finish, broil for 3 minutes to get cheese extra golden. Sprinkle scallions on top to garnish.
Photo by Matt Armendariz / Food Styling by Adam Pearson / Recipe by What's Gaby Cooking
** This post is brought to you by Stella Artois. All content, ideas, and words are my own. Thanks for supporting the sponsors that allow me to create new and special content like this for What's Gaby Cooking**