Lunch is my most favorite meal of the day and I think it deserves some attention. If you watch my IG stories, you know I love prepping ahead. Sunday night I cook a feast so I can mix and match things for lunches! Here are some of my favorite make-ahead meals that travel to work like a pro!
A few weeks ago a reader emailed and asked for more lunch ideas and some that can manage NOT being reheated. With different companies and states having different rules and regulations for office etiquette these days, I broke the list down below with things that are great room temp or cold and things that would benefit from a quick hit to a toaster oven or microwave!!
#1 – Mexican Corn and Quinoa Salad. It's light but fulling and you'll be obsessed. (no need to reheat, in fact it's best if you don't heat the avocado sauce for flavor!)
#2 – Greek Chicken Salad – it's packed with protein and pickled red onions and it's perfect when you're on the go! (no need to reheat, the chicken is great chilled)
#3 – Southwestern Brown Rice Bowl – cilantro vinaigrette doused brown rice is topped with everything you need for a DIY burrito bowl! (no need to reheat)
#4 – Quinoa Stuffed Peppers – these are the best! They make for a perfect dinner and then snag one for lunch the following day! Best when topped with guacamole – duh! (you don't HAVE to reheat but I do prefer these warm)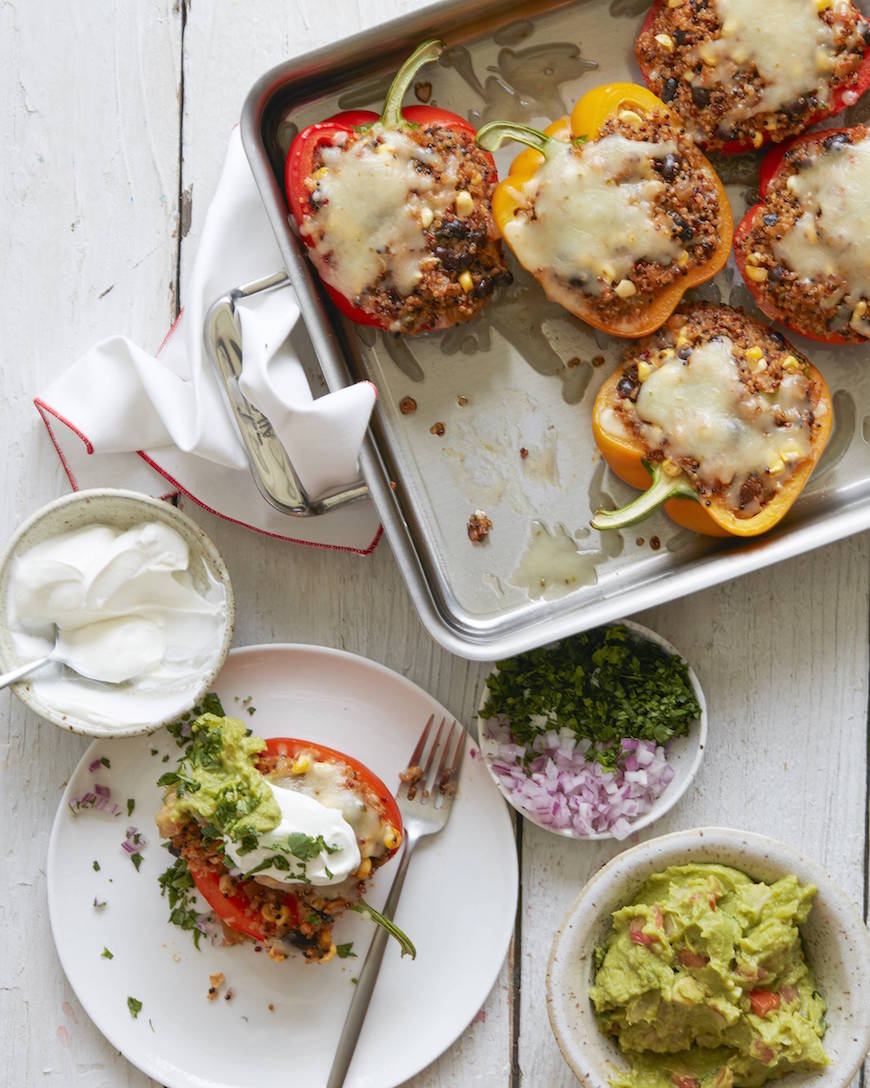 #5 – Asian Chicken Slaw if I could eat this every day, I totally would! It's 90% vegetables, 10% chicken and all of it is tossed in an addictive light soy sauce dressing. (no need to reheat)
#6 – Goat Cheese, Beet and Farro Salad make this one on the weekend and it lasts for days! Just add the avocado right before you head out the door so it doesn't brown.(no need to reheat)
#7 – Deconstructed Falafel Salad co-workers will be majorly jealous of this insta-worthy salad! (no need to reheat)
#8 – Avocado Shrimp Quinoa Bowls – you know I'm all about a bowl – and this shrimp quinoa bowl will not disappoint! (no need to reheat – in fact you risk overcooking the shrimp if you reheat)
#9 – Southwestern Sweetpotato Bowl – ditto to what I just said above! (no need to reheat)
#10 – Chicken Tawook Bowls – do it!! But fair warning, the garlic sauce might give you some garlic breath so maybe don't do it if you have to have back to back meetings all afternoon 🙂 (this could go either way if you want to reheat the chicken, just don't reheat the garlic sauce)
and if you still need a little more inspiration – check out my Lunch 101 / Assembly Line style post! It's saved us from eating bad take-out for lunch many many times!