It's that time of the year again when I get an excuse to break out all the best recipes for snacks and appetizers and host an epic Super Bowl watch party. This year, the Super Bowl is on Sunday, February 13th, and I think we can all agree that the key to success in 2022 is the snack menu. So here's a roundup of my favorite super bowl food from chips and dip, to wings, to nachos, even chocolate chip cookies. We can't forget about the cookies. All you've got to do is pick a couple of easy appetizers and dips from this list, grab a few bags of chips, and you're ready to host the best Super Bowl watch party! Here is my roundup of 100 Super Bowl Recipe Ideas!
Dips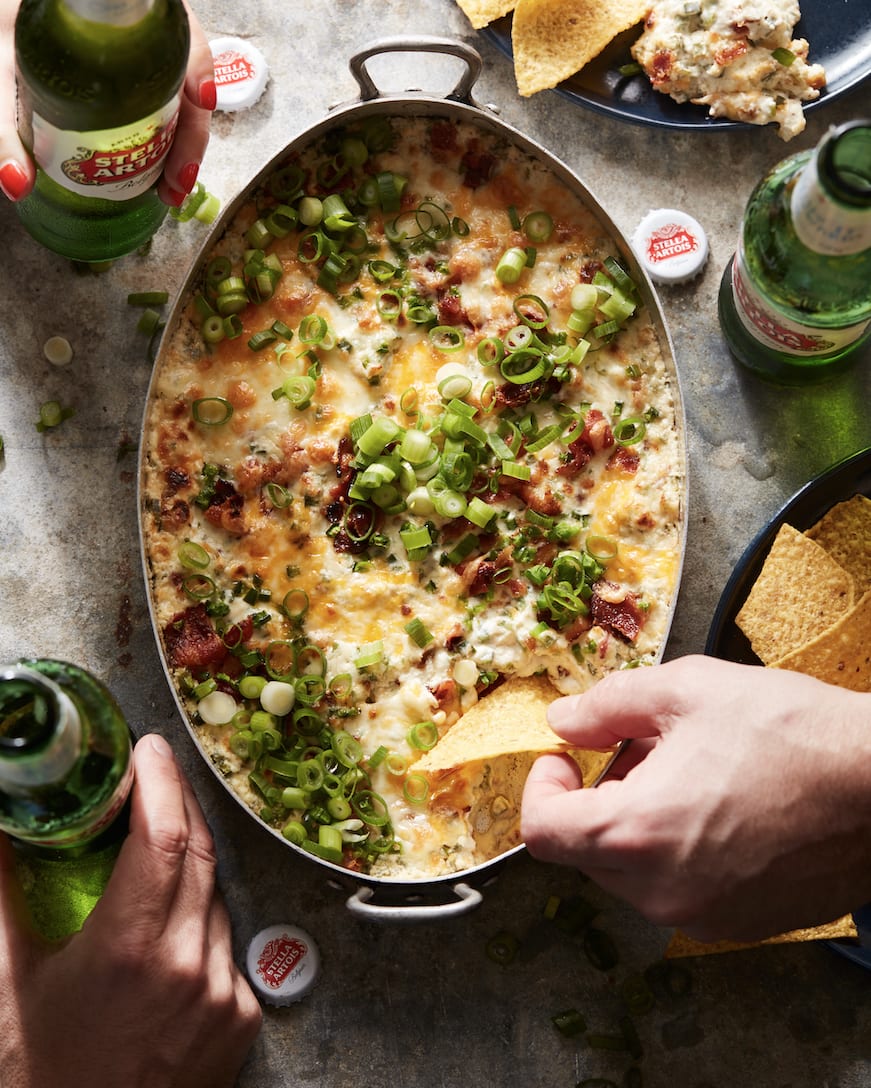 What's a super bowl party without any dips? From classics like spinach artichoke dip and 7 layer dip to jalapeño popper dip, you really can't go wrong. I also fully support hosting a Dip Party at any time of the year.
Guacamole
If you want to learn how to make guacamole, you've come to the right place. I wrote an entire cookbook on avocados and all of those years of recipe development led me to the best guacamole recipe ever.
Hummus
Making hummus at home is so easy. You can keep it plain and simple or go for one with a kick, like this Calabrian Chili Hummus. All you've got left is to whip up a quick batch of homemade pita chips, and you're golden. Here are seven of my favorite hummus recipes.
Salsa Recipes
Coffee snobs move over, there's a new group in town… salsa snobs. Growing up in Tucson and then moving to California meant I sampled just about every salsa there is to offer. I've kept my salsa snobbery duty going, and I don't intend to give it up anytime soon. But in all seriousness, making homemade salsa takes as little as 5 minutes and couldn't be easier! And this is the best homemade salsa recipe, in my opinion.
Chips
Now that you've got the dips you're serving for your Super Bowl party down, let's tackle the second most important part, chips. Making homemade tortilla chips or potato chips is much easier than you may think and learning how can come in handy if you ever realize you ran out of chips.
Wings
Chicken wings are the ultimate game day appetizer, and these baked chicken wings are the perfect combination. Buffalo wings + bacon + cheese; what's not to love? Serve your wings up with a side of ranch and a few stalks of celery, and you've got yourself a pretty good snack right there!
Nachos
I mean, a sheet tray of nachos is everything. I like mine loaded with all the cheese, guacamole, pico, cream, and carne asada. You really can take creative liberty on what you add, like this fully loaded black bean nachos recipe is a vegetarian's dream. Out of all the sections in my 100 Super Bowl Recipe Ideas roundup, this might be my favorite.
French Fries
I don't think you'll get any complaints about a sheet tray of loaded french fries. Homemade french fries are actually quite simple to make. Just be sure to use russet potatoes; they're the best potatoes for french fries.
Finger Food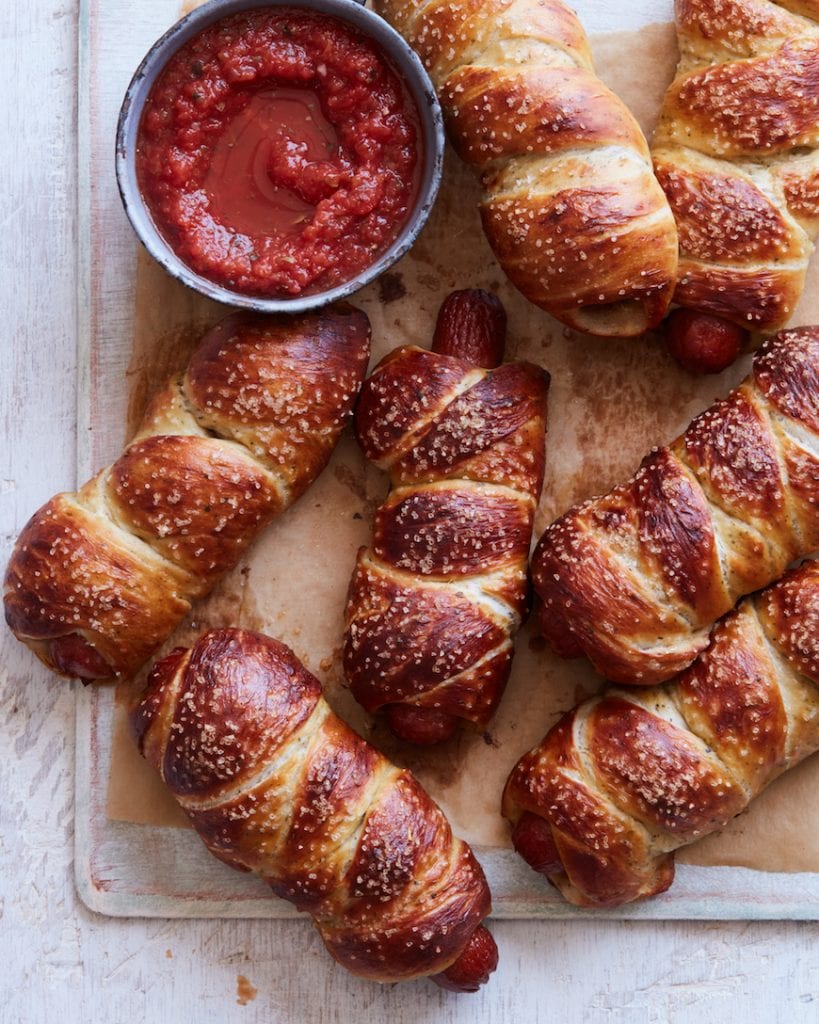 Delicious bite-sized snacks that are sure to be crowd-pleasers. From homemade chicken taquitos to parmesan pretzel dogs to pizza monkey bread, there's something here for everyone.
Cheese Boards
You also can't go wrong with a beautiful cheese board. Making a cheese board is also a super easy lift. When assembling a cheese board, I like to put a couple of soft and hard cheeses out first and then build around them, adding different types of crackers, cured meats like prosciutto, fresh or dried fruit, nuts, or olives. You can get as creative as you'd like with what you put on yours, and I have plenty of cheese board ideas to give you some inspiration.
Easy Appetizers + Snacks
I love an easy appetizer that you can whip up in under 10 minutes and these recipes are just that.
Healthy Snacks
Why not add one or two healthy snacks to the mix? This basil whipped goat cheese served up with a bunch of crudités or a bowl of spicy roasted castelvetrano olives with feta would both be solid options.
Snack Platters
Looking for a little appetizer situation with all of your favorite nibbles 'n things to munch on? Well, look no further these mezze platters, appetizer boards, and snack bars are for you.
Sweet Snacks
And last but not least, we've got all of the best sweet snacks for your super bowl menu on deck. These chocolate chip cookies, brownies, and football-themed muddy buddies are sure to steal the show.
Best Snacks for the Super Bowl: Jalapeno Popper Dip
Ingredients
10

slices

bacon

1

8 ounce package cream cheese, softened

1/3

cup

mayonnaise

1/3

cup

sour cream

1

teaspoon

garlic powder

1

teaspoon

onion powder

3

jalapeños

finely diced

1

poblano pepper

finely diced

1 ½

cups

shredded Colby jack cheese

1 ½

cups

shredded Monterey jack cheese

½

cup

crumbled feta cheese

Kosher salt and freshly ground black pepper

Scallions for garnish
Instructions
Preheat oven to 350 degrees F. In a large nonstick skillet over medium heat, cook bacon, in batches, until crispy. Drain on a paper towel-lined plate, then crumble.

In a large bowl, stir together cream cheese, mayo, sour cream, garlic powder, onion powder, most of cooked bacon (reserve some for topping), all of the poblanos most of the jalapeños (reserve some for topping), and 1 cup each cheddar and Monterey jack and all the feta. Season with salt and pepper.

Transfer to an oven-safe skillet or baking dish and sprinkle with remaining cheese, crumbled bacon, and jalapeño. Bake until dip is golden and bubbly, 15 to 20 minutes. To finish, broil for 3 minutes to get cheese extra golden. Sprinkle scallions on top to garnish.